BBC Radio Wales Music Day 2013
The fourth BBC Radio Wales Music Day took place on Friday, April 19, with live music and special programmes across the day from the very best new and established Welsh talent.
Your Listening and Viewing guide
Manics EXCLUSIVE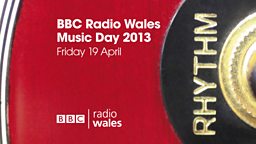 Radio Wales Music Day included the premiere of an exclusive track recorded by the Manic Street Preachers - "See It Like Sutherland."The Manics, who are currently in the studio recording their next album, produced the special instrumental track which will be broadcast for the first time on programmes throughout the day.
RWMD 2013: Listening and viewing guide
Jason was joined by Bethan Elfyn, introducing the live acts from the BBC Club. We heard from Caroline Harrison (from West Wales), A Girl Called Ruth (Conwy) and Peasant's King (Pontypridd).
VIDEO: Caroline Harrison performs Beyond the Darkened Sky
VIDEO:  Peasant's King perform Ninakupenda
VIDEO: Peasant's King perform Cemetary
CLIP: A very tiny record shop...
CLIP: A very huge record shed...
Louise Elliott live from the BBC Club
Louise and guests decamped to the lounge bar of the BBC Club in Cardiff. From there we heard music from Dan Bettridge (from Ogmore-by-Sea), Climbing Trees (Pontypridd) and Casi Wyn (Bangor).
VIDEO: Climbing Trees perform Burning Candle
CLIP: Bethan Elfyn meets The Independents
Evening Concert in Wrexham
As well as showcasing some of the most talented up-and-coming performers from Wales, this year's BBC Radio Wales Music Day celebrated the important role music plays in communities around the country with a special live concert at the William Aston Hall in Wrexham.
The concert was hosted by Alan Thompson from Radio Wales' Evening Show, alongside West End 'Wizard of Oz' star Sophie Evans. The show featured performances from two Welsh acts which BBC Radio Wales has supported for several years - Paper Aeroplanes and Al Lewis, and a special performance from Wrexham Community Choir.
Charlotte Church Exclusive
BBC Radio Wales Music Day 2013 culminated with an exclusive broadcast of a concert recorded recently with Charlotte Church at Clwb Ifor Bach in Cardiff. In the concert we heard exclusive recordings of songs from her new EP "Two", and a frank and wide-ranging interview with Bethan Elfyn
Meanwhile in mid Wales...
Stories are told that in the 1960s and 70s some of the biggest names in rock and blues flocked to Llanddewi Brefi. Did Mick Jagger, Eric Clapton, and Bob Dylan really stay there? In a special programme, Euron Griffith investigates.
The programme will be repeated in the near future, at which point it will be available on this page.