Actors - can't live with 'em...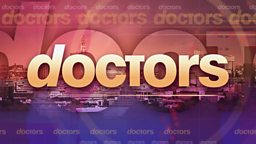 The musings of Doctors Series Producer Peter Lloyd on the perils of finding the best actor for the role.
Actors are great. Loopy sometimes, infuriating at others and some are absolutely ghastly - not on this show though, they simply wouldn't survive. But on the whole, actors are great. They can transform a character into something utterly compelling, bring something wonderful to what was once a rather dull scene and create the most profound moment that it makes you cry.
There is a kind of magic to it, which is why actors can be so bewitching.
Or they can be terrible.
Reduce a great story to pedestrian mawkishness. Look so amateur, the audience feels uncomfortable. Or simply lose any sense of realism, by which time the viewers are reaching for the remote.
So casting is crucial and we have probably the most hard working casting department in the kingdom. Like every department on this show, there really aren't enough of them, they work like fury and help us to employ at least 800 actors a year.
Producers and directors cast their own 'guest' actors, whilst Mike and I oversee 'semi regs' (ie those actors who appear on and off across different weeks). But for new Regulars, we go to auditions ourselves and meet them.
Not only are you trying to find someone who can play the part, or who brings something new and interesting to it, you're also looking for someone who'll fit into our hard working little team. One hint of 'do you think you could fly me to France for the weekend darling?' and they're a no no.
I'll never forget Selina Chilton's audition. She was the first of the day. She'd done her homework, learned her scenes, had thought very hard about the role of Ruth and asked intelligent questions. Then she went for it, and knocked it straight out of the park. It was ten thirty and I was wondering if there was any point in seeing the remaining seven actresses lined up. But out of courtesy, I did. But I kind of knew.
I knew with Sophie Abelson and David Sturzaker too. I targeted Owen Brenman: he was in my mind when I created the character of Heston – Lord knows what would have happened if Owen hadn't wanted to join us. Jan Pearson had appeared in an episode as a guest and was so impressive, we broke the rules (actors aren't supposed to reappear in a different role within 18 months) and offered her Karen.
We never thought we'd get Chris Walker , or Ian Kelsey or Elisabeth Dermot Walsh, but we were very lucky.
But it works both ways. Charlie Clemmow saw Karen onscreen and heard that she had a daughter (at that point we hadn't met the rest of the family). So she used her initiative, called the casting guys and offered herself to play the part. We really didn't consider anyone else.
They work so hard – regs and guests. It's an adrenalin ride. There's no time, no rehearsal and they're pretty much working on their instincts. It requires a very specific set of acting muscles. As a reg, you could be working on nine different stories at any one time. They certainly have no time to get bored, and they're a tiny group compared to the other shows. One ex reg told me that working on Doctors gives you the chance to play the lead role in a story at least once a fortnight. Far better than sitting in the back of the pub for months on end with no storylines at all …. you know who I mean.
So to sum up: Actors are great, they work hard, some are bad and casting is vital.
And I love ours very much.
But I couldn't eat a whole one ….
Read Peter Lloyd's musings on the departure of some of his favourite Doctors actors
Read Peter Lloyd's piece explaining the inspiration behind the character names in Doctors.
Read Peter Lloyd's piece on the process behind creating a truly great character
Doctors Notes
Interviews, musings and other extras from Doctors.
Karen and Rob's fostering story line has touched on many different issues, here we talk to storyline advisers, The Fostering Network, on how they've worked with the researchers.

Ian gives us an insight into the working behind his first script for Doctors!

Find out about Christine's latest appearance Letherbridge in an exclusive interview.

He plays fast talking Dr Sid Vere, but how will he fare against our quick fire round?

Is Ian as quick witted as his character Al, find out with his quick fire questions!

Let's see how The Mills' midwife handles the 'quick delivery' of these questions!

The Mills newest resident answers some tough quick fire questions!

We talked to Peter Lloyd, Series Producer, to get the low-down on today's shocking developments.

We caught up with the actor and director to talk about directing for a fourth time...

Matthew discusses the challenges of directing Doctors for the third time!

Series Producer and Writer Peter Eryl Lloyd gives an account of the writing challenges behind Doctors' special two parter: 'Austenland'.

Actor Janet Dibley who played Elaine Cassidy in Doctors for two years has just written her first episode!

Doctors Series producer Peter Lloyd's final instalment explains the process behind creating a truly great character.

Doctors Series Producer Peter Lloyd explains the inspiration behind the character names in Doctors.

The musings of Doctors Series Producer on the perils of finding the best actor for the role.

Doctors Series Producer Peter Lloyd mourns the departure of some of his favourite Doctors actors.