Tunbridge ware sewing clamp
This mysterious item is a Tunbridge ware sewing clamp.
Tunbridge ware is decorated with thin geometric mosaic strips of various types of wood. This would have been a holiday memento from 1810-15, the early years of the Regency era. Collectors of Tunbridge ware would love this example and be willing to pay around £1,000.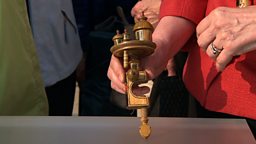 Did you know? In the nineteenth century, Tunbridge ware was very highly esteemed. When visiting the town with her mother the Duchess of Kent, the young Princess Victoria used to buy articles of Tunbridge ware as gifts for her family.
Get the app that lets you join in by guessing the values of items featured in the show.