About The John Peel Lecture
Discover more about The John Peel Lecture
Musician, campaigner, writer and activist Billy Bragg will give the second annual John Peel Lecture at the 2012 Radio Festival in Salford on Monday 12 November.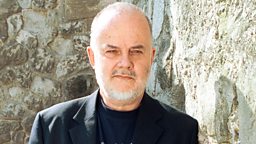 The BBC 6 Music John Peel Lecture with 7digital is a keynote speech given by a leading figure in music and/or broadcasting. Taking its inspiration from one of the greatest radio broadcasters of all time, the John Peel Lecture aims to discuss and create insight into music and music-related media from the past, present or future.
Following in the footsteps of last year's inaugural speaker, Pete Townshend, Billy Bragg will explore how the pirates of radio become mainstream and in what ways broadcasters should reflect that. The lecture will be followed by a Q&A session.
Billy Bragg said: "John Peel was always hugely supportive of artists like myself who had something to say. Encouraged by a mushroom biryani, he gave me my first break in radio and I am delighted to be asked to speak at an event in his honour."
John Peel is remembered as one of Britain's most loved broadcasters. His dry wit, disregard for authority, and devotion to music in all its forms has left a lasting impact and music and the radio industry. He started his broadcasting career at pirate station Radio London before the BBC launched Radio One. His late night music programme championed countless top music artists, including Pink Floyd and White Stripes and he promoted new talent using his famous Peel Sessions, ensuring airtime was available for aspiring, sometimes unsigned, artists.
Bob Shennan, Controller, BBC Radio 2 and Radio 6 Music, says, "6 Music is a place that combines free thinking and musical expertise so it feels very much like a natural home for The John Peel Lecture. I'm proud that we can continue John's legacy to inspire conversation about music and that Billy - an icon of British music whose outspoken views are sure to spark debate - will take centre stage for this special occasion."
Clive Dickens, Chairman of the Radio Festival, said: "Billy will deliver a thought-provoking and fascinating lecture drawing from his diverse musical background and life experiences throughout his 30 years in the industry.
"John Peel was at the forefront of introducing listeners to new music and new artists and Billy Bragg was among them, the Lecture is a great way to pay tribute to a man who changes the structure of music radio through innovative programmes which were delivered with humour and an obvious passion and dedication to music."