Mouseman memorial
This wooden plaque was commissioned by the parents of a pilot killed during the Battle of Britain in 1940.
They asked Robert 'Mouseman' Thompson to make a plaque in 1942 in honour of the 'Tiger' Squadron of the RAF. He took pride in his commission and the detail includes his trademark mouse on the top.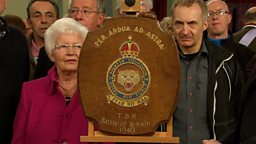 This item is priceless to the family and it is not given a financial value by the expert.
Did you know? Although Hurricanes bore the brunt of the fighting, the Spitfire became the symbol of victory in the Battle of Britain.
Did you know? Douglas Bader lost both his legs in a flying accident. He went on to shoot down 23 planes in the Battle of Britain.
Get the app that lets you join in by guessing the values of items featured in the show.