Cheddar Cheese (National Treasure)
Get a free download of Shaun's track, plus see a behind the scenes rockumentary
Download
This game-changing track features behemoths of the rock world: Mark King from Level 42 on bass, Craig Potter and Guy Garvey of Elbow on keys and BVs, Shaun Keaveny on vocals and guitar, and Matt Everitt of Brit-pop sensations Menswear on drums. A paean to a great British milk-derivative/national treasure, this is yours to treasure forever via the 6 Music website.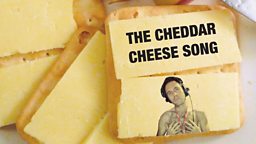 Download Cheddar Cheese (National Treasure) for free
(To download, right click on the link and choose 'Save Target As'; If you're using a Mac it's Ctrl+click)
Video
To accompany the game-changing sounds of the Cheddar Cheese song, you can watch an exclusive behind the scenes 'Making Of' Documentary. This access all areas footage, shot backstage at the BBC's legendary Maida Vale studios, gives an insight into the creation of the music, and the recording process, and captures Shaun Keaveny and Matt Everitt at their most raw and intimate.
Rattle and Bum – The Making Of 'Cheddar Cheese (National Treasure)'