Tracking tigers in the frozen forests of Siberia
Nothing can prepare you for filming in Russia's far east.
Siberia is one of those places where you just don't know what to expect. Wind-swept and desolate it is also amazingly beautiful with rolling hills covered in snow. However nothing is simple in Russia, it feels like a different planet. It took two long flights and a drive including a nine hour stopover to get to the village of Kamenushka, near Vladivostok, where there is a special reserve for tigers.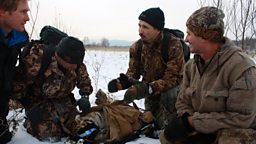 Upon arrival and still feeling very dazed from the journey, I was told we were off to meet the Russian scientist from the A.N. Severtsov Institute of Ecology and Evolution. They had reportedly caught a female Siberian tiger cub. I wasn't expecting to see a tiger on the whole trip – they're so elusive only a handful of people have ever seen them. When we got there you could see this amazing but sad creature was really petrified. It had no idea of the effort that was being put in by these humans to help it.
The village we stayed in was much like it was thirty years ago and I don't think anyone in that village had ever seen westerners before. The locals looked at us like we were aliens and took photos of us with their old instamatic cameras. The only Russian word we had time to learn was 'spasiba', which means thank you.
Our accommodation for the shoot was a house where we all slept on the floor. We didn't have sleeping bags at first so we slept in our down jackets. Fortunately, the Russians are used to keeping their houses warm.
Although the Russians had caught one cub there were two other male cubs that had scattered. We went straight out following the tracks where they had been seen the day before.
I realised maybe I needed to be a bit fitter, it was like being in the military! Plowing through the snow for 12 miles lugging heavy camera kit was more of a challenge than we had anticipated. We had to pare our equipment down to the bare essentials. Because the two male cubs had split up we were also trying to track two separate tracks in the snow, which was no easy task!
It took ten days to film all the cubs. One was found on a Russian military base which was confusing because we didn't speak any Russian – the Russian team would suddenly spring into action and we'd just jump in the truck with them and say "we're coming too"!
Filming was a challenge but I was most impressed by the dedication of the Russian team on the ground. You're just stepping into the lives of these scientists and they know the animals better than anyone else. Without people like them we would never have got the footage we did. If I was trying to do my job and suddenly someone had a camera in my face I wouldn't be quite so amenable!
This experience has left a strong mark upon me. I've filmed lions before and a big male lion is impressive, but a tiger is bigger than that. You wouldn't walk up to a lion in the Serengeti or be tracking after it, but that's what we were doing.
My most memorable moment of the production was finding that last cub alive after we had presumed it to be dead. To witness this huge, wild, bright orange cat cruising along a ridge in the snow was just mind blowing
"The thought of walking up to a mother with cubs, who was more than likely guarding her deer kill, sounded a bit like suicide to me"