What you can do to help our oceans and the creatures that live in them
There are plenty of easy ways you can help our marine life in the coming weeks, months and years. Below we share some links and information on the issues our oceans face and how you can help.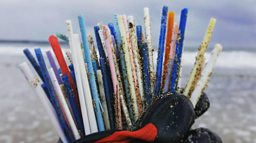 By choosing cotton buds with cardboard sticks instead of plastic, you're making a big difference. Image copyright: Fifth Point Diving
Take part in a two minute beach clean
Our oceans are strewn with litter. A simple way you can help is by collecting litter that washes up on our beaches.
People on Twitter document their litter picking activities and successes using #2MinuteBeachClean. If you don't fancy doing it alone then there are plenty of events organised around the country on a regular basis. Beachwatch set up events for beachcombers to participate in organised events near them.
Take part in The Great Nurdle Hunt
Tiny plastic particles released during the production of plastic consumer products are a real problem for marine life. Nurdles, as they are known, are found on beaches around the British Isles. They are often digested by sea birds, fish and other marine organisms who mistake them for food. Why not do your bit and help collect them from our beaches - by downloading the free app, you can contribute to what's known about the distribution.
Hidden dangers in beauty products
Beat the Bead!
Earlier in 2017, the UK government banned microplastics in cosmetics. It's a huge step towards cleaning up our oceans but there is more work to be done. Many microbeads, which are tiny plastic particles, are found in some domestic cleaning products. They're terrible for our oceans and the life that lives in them. Fortunately, you can easily avoid buying products that use them with a handy app. Scanning the barcode before you reach the till will tell you whether any microplastics are contained within.
Whilst you're at it, why not have a look at The Watches' guide to apps that every nature lover should have?
Get Scientific
How clean is the water where you are?
Scientists are looking to assess how clean waters in the British Isles are. It may be a pond or a local lake that you pick. The findings will help scientists evaluate how the polluted waters on our islands are. Take part here.
Did you know there are more than 650 species of seaweed on the shores of the British Isles? If you're feeling adventurous head to the Natural History Museum website and help it track the types of seaweed on our beaches.
Have you spotted a shark or ray egg case? Scientists want to know! Reporting them can help teams researching sharks and rays track down the species and assess their distribution. Get in touch with them here.
Report sightings of marine mammals. A handy app allows you to do it from your smartphone, the data is used by scientists to assess how species are faring in our oceans. If you've seen a basking shark, marine turtle or jellyfish then report your sightings to the Marine Conservation Society.
Sadly, sometimes whales and dolphins get stranded on our shores. Fortunatley, there are people out there who are there to help when this happens. You can report a whale or dolphin stranding here.
What's on your plate?
If you have ever wondered where the fish you eat comes from then this handy guide and free app help you to choose sustainably caught fish, which in turn protects fish stocks and other marine wildlife and habitats.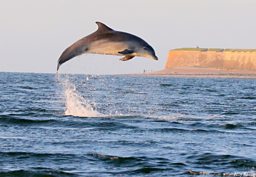 The final straw
Used for just a few minutes, plastic straws can take hundreds of years to decompose if not recycled.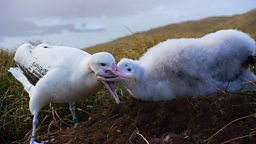 Seabirds like these wandering albatross travel thousands of miles in search for food. Often mistaking plastic for food, this ends up in their stomachs and so in their young as well.
Read more about how some pubs have stopped automatically putting straws in their drinks.
#2MinuteBeachClean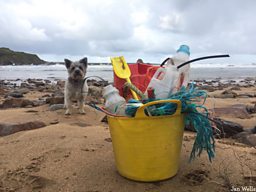 Beach clean hero Jan Wells did a #2MinuteBeachClean every day for a year!