English National Ballet takes centre stage at after-hours festival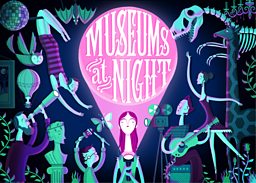 English National Ballet will perform a recently premiered piece by award-winning choreographer Russell Maliphant at Imperial War Museum North as part of Museums at Night.
Second Breath was inspired by letters, diaries, photographs and personal stories from IWM's national collections and will be performed in the Manchester museum's main exhibition space which includes the field gun that fired the British Army's first shot of the First World War.
Museums, galleries and historic spaces across the UK are preparing to host almost 700 night-time events as part of the three-day Museums at Night festival, which begins on Thursday 15 May.
BBC Arts Online will be live at Imperial War Museum, North to stream ENB's performance on Saturday 17 May. Martha Kearney will host two live programmes, at 18:30 BST and again at 20:00 BST with coverage of events from around the UK.
We follow American artist Spencer Tunick, famed for his ambitious projects involving large numbers of naked men and women, as he photographs more than 100 nudes on Folkestone Beach in Kent. The portraits will be exhibited overnight at the town's George's House Gallery. A one-off performance by electro-pop duo Public Service Broadcasting from the RAF Museum in Hendon will also feature.
Museums at Night, organised by Culture 24 and funded by Arts Council England, gives visitors the chance to make after-hours visits to hundreds of venues to experience culture in an unexpected way.
Highlights of the nationwide festival will also be shown on a special programme on BBC Two at 19:00 BST on Saturday presented by BBC arts editor Will Gompertz, which will include coverage of a photo-shoot by celebrated photographer Rankin at St Ann's Allotments in Nottingham.
Culture 24 is also encouraging people to get involved by making their own recreations of famous artworks as part of VanGoYourself, a Europe-wide project to promote greater understanding of famous masterpieces.