Rudy's records
Writer Danny Robins talks about the tracks featured in Rudy's Rare Records
Choosing the music for this series of Rudy's Rare Records has been a fun part of the whole writing process. Over the four series we've done, the music played inbetween scenes has always been an integral part of setting the mood, taking you into the world of this chaotic, dusty but exciting little record shop in Birmingham, where Adam, Rudy, Tasha and Doreen sell the finest reggae, ska, funk and soul known to humanity. This series is no different and I think we have some corking tunes in there to take us from scene to scene.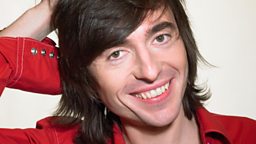 Lenny and I have chosen the music between us. We're both big music fans, but Lenny has an almost encyclopaedic knowledge and is always full of suggestions. I went to a party at his house during the writing process and found myself scribbling down the names of tunes as he played his way through his iPod playlist. I've also found a lot of songs by combing through Youtube where reggae and ska fans put up recordings of old 45s to keep the music alive and introduce it to a new audience, something I hope we do in this series too. The majority of what we play of course hails from Jamaica - Rudy's birthplace - the little island that he claims "made the best music in the world!".
Certain artists inevitably tend to crop up more than others. We always find room for Bob Marley, Jimmy Cliff, Desmond Dekker and James Brown – all of whom Rudy claims to know as close friends. Most of them he also claims played secret gigs at the shop, though Adam think the gigs "were so secret even they didn't know about them".
If you like the music from this series you can listen to the Youtube links provided with the 'musical breakdown' of each episode, or if you have access to Spotify, you can hear the playlists I've made for each episode. If you really like it though, promise me you'll go out and find it and buy it at your local independent record shop. As Adam and Rudy's ongoing financial struggles this series testify, it ain't easy being one of the last of a dying breed, keeping the vinyl dream alive. So many of the record shops I have enjoyed visiting in towns around the UK are now closed, which is a damn shame. As Rudy once said: "You can't listen to music on a computer. It's like making love wearing a wetsuit."
Danny's playlists
The first of writer Danny Robins' playlists, featuring Jimmy Cliff, De La Soul and Rossini