Mementos of the 1912 Polar Expedition
The hood, the broken compass and two watercolours are poignant mementos to the descendant who inherited them from Dr Edward Wilson.
Wilson was on the ill-fated polar Terra Nova expedition in 1912 with Scott, which ended in the tragic death of all the group after they were beaten to the South Pole.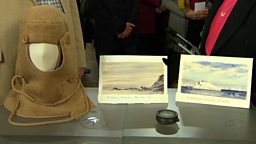 The owner has recently donated the items to several museums. Although the value is academic, they would be worth: hood, £2,000-£3,000; the watercolours, £20,000 each, and the compass, which was retrieved from Wilson's body, £150,000.
Did you know? Captain Scott's body was found in November 1912, inside his tent, along with the bodies of Edward Wilson and Henry Bowers.
Did you know? Captain Scott and his men ate stewed penguin and drank champagne on their expedition to the South Pole. 
Did you know? Scott found many scientific objects in the Antarctic including a fossil proving the existence of an ancient super-continent.
Get the app that lets you join in by guessing the values of items featured in the show.