BBC Fresh Profile: John Evans
Filmmaker John Evans describes his personal route into his subject matter.
John says he is keen to raise awareness of domestic violence and thinks documentary makers have a part to play in shedding light on the issue.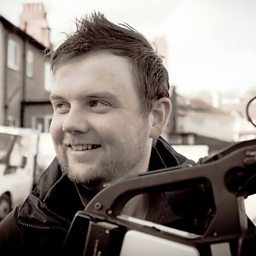 Why did you pick this subject for Fresh?
The film introduces us to women right across the age spectrum, but what stood out is that they were all young when the abuse started. This is a problem that affects any age, but it's one that often begins in a victim's youth and early adulthood. By targeting a BBC Three audience, the film potentially speaks to those who have just begun to experience these problems.
What motivated you to make this film?
As you can see from the dedication at the end of the film, I grew up having to watch my mum beaten and bullied by my abusive father. The film as a result became a very personal journey. With Curtains, I think I became as much as a participant as the women and support workers. With some reflexive reverting, perhaps I provided the child's point of view, the only view I have.
What camera did you use to shoot your film?
The Canon 5d Mk II. There is this idea sometimes that the DSLR's can be temperamental for an observational doc, but it's really worked quite well. Very cinematic.
Who/what inspires you?
I think I could go on for days talking about this, but for this production I think - and I could probably say this for the whole crew - that the women involved really helped bring home not only what we were trying to do, but our responsibility as filmmakers to the subject.
These women had no responsibility to tell their stories or raise their heads above the parapet, but they did to hopefully inspire others, and highlight a great wrong in our society. The didactic element of documentary is a powerful tool in aiding social awareness and hopefully a change for the better.
What are your plans for the future?
Well I have recently finished my MA in Filmmaking at Bangor University and began to work at the independent production company Cwmni Da. So it has been a good start to my new career. Thanks to the recognition that a film like Curtains has received, I have been given my first hour commission, which I am about to start shooting.
What is the most important thing you have learned so far?
There is so much, really. This could get like a BAFTA winners speech. To be obvious, I suppose it's the idea and getting that right in a production context. It is probably the most repeated cliché but it can become the easiest thing to overlook. Another aspect is the importance of the collaborative process of production. If you can get that right, both behind and in front of camera, you really can't fail.