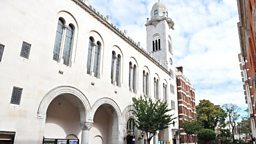 Coming to a Prom at Cadogan Hall
Doors open at 11.00am for Proms Chamber Music concerts (entrance to the auditorium from 12.30pm); and at 1.00pm for Proms Saturday Matinees (entrance to the auditorium from 2.30pm).
Latecomers will not be admitted unless or until there is suitable break in the music.
Children under 5 are not admitted to Cadogan Hall out of consideration for both audience and artists. See this page on special events for families.
Bags and coats may be left in the cloakroom on the lower ground level.
Stalls: £12.00, Centre Gallery: £10.00, Day Seats: £5.00
From Saturday 16 May Cadogan Hall tickets can be bought from Cadogan Hall (020 7730 4500) as well as from the Royal Albert Hall Box Office. On the day of the concert, tickets can be bought at Cadogan Hall only – from 10.00am. At least 150 Day Seats (Side Gallery bench seats) are available from 10.00am on the day of the concert. They must be purchased in person, with cash only, and are limited to two tickets per transaction.
Hear all eight Monday-lunchtime Proms Chamber Music concerts for just £30.00, with guaranteed entrance to the Side Gallery until 12.50pm (after which Proms Chamber Music Series Pass-holders may be asked to join the day queue). Passes can be purchased from 9.00am on Saturday 16 May online, by phone or in person at the Royal Albert Hall. Two passport-sized photographs must be provided.
Please note: Proms Chamber Music Series Passes cannot be purchased from Cadogan Hall. Proms Chamber Music Series Passes are not valid for Proms Saturday Matinee concerts at Cadogan Hall and are subject to availability. All Weekend Promming Passes and Promming Season Tickets are subject to availability.
Unwanted tickets for all Royal Albert Hall and Cadogan Hall Proms may be exchanged for tickets to other Proms concerts (subject to availability). A fee of £1.00 per ticket will be charged for this service. Call the Royal Albert Hall Box Office (0845 401 5040*) for further details.
*Calls cost up to 5p/min from most landlines (an additional connection fee may also apply). Calls from mobiles may cost considerably more. All calls will be recorded and may be monitored for training and quality-control purposes.
Mobile phones and other electronic devices are distracting to other audience members. Please ensure they are switched off.
The use of cameras, video cameras and recording equipment is strictly forbidden.
Oakley Bar and Café, the brand-new food counter in the Oakley Room, offers concert-goers a new food experience this season. A selection of light dishes, salads, sandwiches and desserts, all freshly prepared and beautifully presented, will be available from the café and there is a carefully selected wine list to complement the dishes.
The café and bar will be open at 11.00am for Proms Chamber Music Concerts and at 1.00pm before Proms Saturday Matinees.
Cadogan Hall's bars offer a large selection of champagne, wines, spirits, beer, soft drinks and tea and coffee.
Please check street signs for details. Discounted car parking for Cadogan Hall performers and customers is available at the NCP Car Park, Cadogan Place, just 10 minutes' walk north of Cadogan Hall. Parking vouchers are available on request from the Box Office.
Cadogan Hall has a range of services to assist disabled customers, including provision for wheelchair-users in the Stalls. There are three wheelchair spaces available for advance booking and one space reserved for sale as a day ticket from 10.00am on the day of the concert. Please note, there is no lift access to the Gallery. For further information, please call 020 7730 4500.
Come as you are: there is no dress code at the Proms.