No.2 Squadron diary
Here is an important item from the archive at RAF Marham.
It's No.2 Squadron's first diary dating from 1912 – a fantastic record of the men and their service. It contains the first reconnaissance images taken over France during the First World War in September 1915.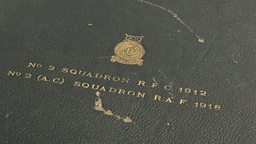 The diary is such an important piece of RAF history. 
One of the most poignant pictures in the diary is a photograph of 2nd Lieutenant William Rhodes-Moorhouse, who was the first winner of the Victoria Cross in the air. This is a medal for extreme courage under fire. His tale is testament to those that have earned the VC over so many years.
During April 1915, he was tasked to go and attack a re-supply column. Such was the importance of the mission that he didn't fly with his observer because he couldn't carry such a large bomb as well as an observer. So he flew alone with this single 100lb bomb, right on the maximum capability of the aircraft. He achieved a direct hit on the target but was raked by machine gun fire on the way in, which tore through the aircraft and wounded him.
He then had a choice: either to ditch the aircraft there, be captured and probably have his wounds dressed, or try and get the aircraft back home so it could be re-armed, re-loaded and used again. And he elected to return home.
The aircraft had 91 bullet holes in it, and he was only semi-conscious when he landed. Covered in blood, nevertheless, he refused hospital treatment until he had completed his post mission report. Tragically he died of his wounds the next afternoon. This is one of many stories in this priceless diary.
Did you know? Of the 14,000 airmen killed in the First World War, well over half died in training.
Did you know? Britain's greatest flying ace of the First World War was Major Edward "Mick" Mannock – he scored 73 victories in 12 months.
Get the app that lets you join in by guessing the values of items featured in the show.