Young Folk Award 2013
The application process for this year's Young Folk Award has now ended.
The competition was open to soloists, duos and groups aged between 15 and 20 who perform folk, roots or acoustic music from any culture.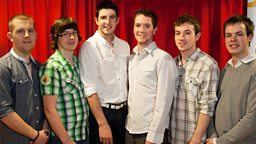 The first stage of the competition will be judged on a submitted recording. Ten successful entries will then be invited to take part in the Young Folk Award Weekend in Kendal, Cumbria between 19 and 21 October 2012.
The weekend includes sessions and workshops and will provide an opportunity for the musicians and singers to meet and perform. Respected folk musicians John Spiers and Jackie Oates will tutor at the workshops. The weekend culminates in a concert presented by Mike Harding and open to members of the public, featuring performances from each act. A panel of judges will then select a shortlist of four acts to become the nominees for the 2013 Young Folk Award.
The prizes for the winner of the Young Folk Award include the opportunity to record a session for Radio 2 and to perform at top UK festivals in 2013, including the prestigious Cambridge Folk Festival.
Previous winners of the Radio 2 Young Folk Award include Tim van Eyken, who won the inaugural title in 1998, Uiscedwr, Last Orders, Jeana Leslie & Siobhan Miller, Megan & Joe Henwood, James Findlay, Moore, Moss, Rutter and last year's winners Ioscaid.