Royal doll
This doll is dressed in royal clothing, including a crown.
It was bought 59 years ago by the owner's mother who saw an advert for it in a newspaper, shortly before Queen Elizabeth's Coronation.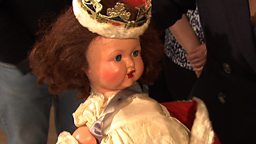 The doll has a handle on its stomach which, when wound, makes the doll sing 'God Save The Queen'. However, it has limited appeal as, as the owner says, "it's a bit 'spooky'". It is worth £80-£120.
Did you know? Over 20 million people watched the BBC coverage of the Coronation. Many people crowded round neighbours' sets to watch television for the first time.
Get the app that lets you join in by guessing the values of items featured in the show.