Planetary Activity Cards (PDF)
Nine-in-one collectible Activity Cards with great ideas for Stargazing events and experiments to try out in the comfort of your own home.
Each card also contains some basic stats about one of the planets of the Solar System so if you print them all you could have a quick game of planetary trumps!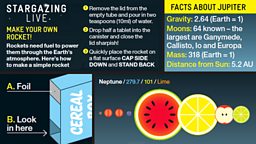 If you have a smartphone, you can scan the QR Code on the card (black and white square pattern at the bottom) which will take you to a BBC webpage with in-depth information about the planet on your card.
Download your Planetary Activity Cards to view or print:
Note that Adobe Reader is required.
BBC Schools Website offers some valuable tools for teachers to encourage their students to get stargazing. Find out about Schools' Telescope Projects, where schools can get involved in exciting telescope projects to access images of Space.
Download and print out this pocket guide to star-spotting throughout the year.

Find out how stars shine and why we're made of star stuff in this beautifully animated short film.

Helen Czerski helps a group of children make a scale model of the Solar System.

Astronomer Mark Thompson plus an old umbrella and some sticky dots! As featured in the Planetary Activity Cards.