Who was Grace Archer?
Almost 60 years to the day after The Archers' character Grace Archer was killed, Radio 4 will broadcast Dead Girls Tell No Tales featuring Ysanne Churchman, the original Grace Archer.
It is established media folklore that Grace Archer's death was a ploy to thwart the launch night of ITV. But the 60-minute drama delves deeper into the Archers' celebrated archives to reveal what really inspired 20 million people to tune in and left tens of thousands distraught – leaving the BBC switchboard jammed for 48 hours.
We ask, who was Grace Archer? How did she die and why does her spirit linger around the village of Ambridge to this very day?
As The Archers, at the time the 'everyday story of country folk', began its radio journey, Phil Archer, scion of Ambridge's Archer family, was a young, handsome, progressive farmer who battled with his father Dan to introduce more modern farming methods to Brookfield, the family farm.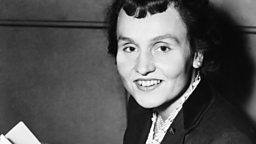 In 1955, he married the young, glamorous Grace Fairbrother, daughter of the local squire George Fairbrother, and the happy young couple moved in to Coombe Farm, now Hollowtree.
Then tragedy struck. On September 22, 1955, Grace left a dinner party at Grey Gables (John Tregorran and his then girlfriend, Carol, were also guests), to retrieve an earring she thought she'd left in the car. She noticed the stables were on fire, rushed in to rescue the horses, and the building collapsed on her. She was rushed to hospital but died on the way, in Phil's arms, after telling him she loved him. They'd only been married six months.
This shocking episode was broadcast as a way of diverting the British public's attention from the launch of ITV. And it worked. Over 20 million listeners tuned in.
Two years later, Phil met Jill Patterson when she was demonstrating the 'Household Drudge' machine at the village fete, and they married later that year.
The arrival of Grace's descendants, Rex and Toby Fairbrother in the village has stirred up memories for Jill, who admitted recently, to old friend Carol Tregorran, to feeling 'haunted' by Grace. And who can blame her? The young, glamorous first wife, although killed in a tragic accident, still has her part to play in the life of Ambridge.
More on Grace Archer
Ysanne Churchman and the Editor of the Archers, Sean O'Connor, discuss Grace's return