Joe Meek
by Bob Stanley
Independent record producers, and labels, have been thick on the ground since the punk and DIY boom of the late 70s. But back in the sixties, especially early in the decade, they were a rarity. The best known, best remembered and most innovative was Joe Meek, who had a studio set-up above in a flat above a leather goods shop on the Holloway Road in North London. "The sound of the screaming toilet bowl" one critic called it, yet Meek's Heath Robinson-esque holdout produced three number ones (Johnny Remember Me, Telstar, Have I The Right) and plenty of other lesser hits.
One of Meek's charges was Mike Berry - nee Michael Bourne - who first came to the producer's attention on a self-pressed single, covering Buddy Holly's Peggy Sue Got Married. At this point, he was going by the name of Kenny Lord, but Meek was highly impressed by his ability to sound like Buddy Holly, so a name change to Berry made sense (the other alternative, presumably, was Ivy). According to Meek, when he first turned up at Holloway Road, the Northampton-born singer "also spoke with Buddy Holly's voice. It was no gimmick, it was a gift".
Legend has it that Joe Meek went to see Buddy Holly in concert, and went backstage to warn him that, during a séance, he had discovered that his plane was going to crash on February 3rd. But February had just been and gone - the tour was in March '58 - and so Buddy laughed it off. After Holly's death in 1959, Meek became obsessed with the singer, and his writing colleague (and a fellow believer in the supernatural) Geoff Goddard wrote the atmospheric 'Tribute To Buddy Holly'; Mike Berry - backed by the Outlaws - was well placed to succeed with it. Berry's sweetest Buddy Holly imitation had been on 'My Baby Doll', the b-side of his first flop single, a cover of 'Will You Love Me Tomorrow', but 'Tribute To Buddy Holly' took him into the Top 30. 'Don't You Think It's Time' went as high as number 6 in early 1963 but the arrival of the Beatles, as with so many other singers, made Mike Berry seem antiquated overnight, and he had to wait until 1980 before he made the Top 10 again with the pleasant if rather soppy Sunshine Of Your Smile, produced by former Outlaw and Joe Meek session man Chas Hodges.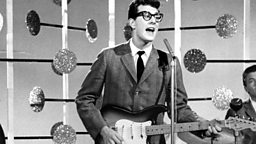 After Holly's death in 1959, Meek became obsessed with the singer
In the eighties Mike was also to be seen singing the Blue Riband Blues on a TV advert for a biscuit, and even had a five year stint on Are You Being Served as Mr Spooner. Joe Meek was long gone by then. He had shot his landlady and then himself on the eighth anniversary of Buddy Holly's death, February 3rd 1967. Like Buddy, Joe's music has continued to be a huge inspiration to later generations and his productions - made with home-made gear and patched together in his shoebox studio - sound as distinctive as ever.