Diving with Seals in Northumberland
The Northumberland Wildlife Trust provide some tips and rules when encountering seals in the wild.
Seeing seals in the wild is a wonderful experience but requires a responsible approach to minimising any potential disturbance whilst in contact with them. It is important to be aware of any reaction to the presence of people or boats and they need room to carry on with their lives unimpeded.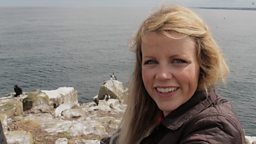 Never feed a seal, there is a real risk of a severe bite. Seal bites tend to become infected and take a long time to heal. Always remember seals are wild animals, so hand feeding them leads to a lifetime of humanised behaviour.
We therefore suggest:
Keep your distance
Limit observation time to a maximum of 10 minutes.
Limit vessel numbers to a maximum of two at a time.
Keep noise to a minimum.
If you are approached by a curious seal, do not approach the seal.
If animals show any signs of avoidance or disturbed behaviour (frequent direction changing away from the boat, moving in to the water from haul-outs or diving) immediately start moving slowly away.
Avoid approaching seals 'straight on', approach from the side.
Always allow seals an escape route, avoid boxing animals in or blocking narrow channels.
Never come between a mother and her pup. If you see a nursing pup, leave the vicinity immediately and slowly.
Never land or go ashore at haul-out sites.
Grey seals were the first mammals to be protected by modern legislation - the Grey Seals Protection Act of 1914. Today, the Conservation of Seals Act (1970) protects them during a closed season from 1st September to 31st December.
The Berwickshire and North Northumberland Coast European Marine Site (EMS) is a Special Area of Conservation (SAC) that, for management purposes, also incorporates the bird interest features and intertidal area of the Lindisfarne Special Protection Area (SPA). The site contains a striking diversity of marine and coastal habitats and species and is designated for its outstanding examples of international importance. Atlantic Grey Seals are a designated feature.
The UK supports approximately 33% of the world population of grey seals (Halichoerus grypus), which represents 95% of the total EU population. Whilst grey seals can be spotted at several locations within the Berwickshire and North Northumberland Coast European Marine Site, a large breeding population can be found on the Farne Islands. The islands support a population of approximately 4000 individuals, with around 1000 pups produced each year, providing 3% of the annual pup production for the UK.
Northumberland Wildlife Trust
August 2013