Zara Larsson: Aint My Fault is a devil emoji, butterfly crown and probably an Arbok
Zara Larsson's new single is out now and - brace yourselves - it's a bit of a banger.
Ain't My Fault is the follow up to Never Forget You and Lush Life and was produced by London's one-man hit machine, MNEK.
Have a seat. Here's the song.
Ain't My Fault was written in a few spare hours the two had together and was never meant to be a single, we learned when Zara chatted to Radio 1 online.
I can't be Becky With The Good Hair, it doesn't make sense

Zara Larsson
The first version of the song was written about stealing another girl's boyfriend but when her record label and management fell in love with the track, Zara quickly rushed back into the studio to change all that.
"I can't be Becky With The Good Hair, it doesn't make sense," Zara tells us.
"I would never be proud of stealing a girl's man and sing about it, it would be very not me. So we have changed the lyrics and now I can proudly sing it without hurting anyone's feelings."
"When we wrote it we just wrote it for fun and people loved it, but then I was like whoa whoa whoa I can't sing this."
But enough of infidelity, sisterhood and female empowerment, let's move on to the serious stuff.
What emoji says everything you need to know about Ain't My Fault?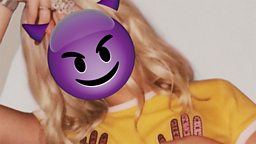 What weather conditions sum up the general vibe of this a-grade pop smash?
I would say a summer night. I want it to be summer and hot, but I want it to be dark.
If Ain't My Fault was a Pokemon, which one would it be?
I don't care about Pokemon. I must be the only person in the world. I tried it for a couple of days and thought it sucks. I can't believe people spend way too many hours looking for Pokemon. I'm sorry, it sucks.
But it would probably be the coolest Pokemon. Is there a snake? That one.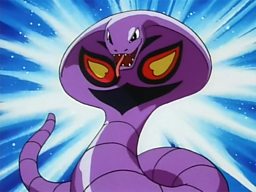 Credit: Nintendo / OLM inc
If it was an animal, what would it be?
Maybe a cat. It's fun, it's flirty it's a little bit meeeeeoow.
Which Snapchat filter would suit Ain't My Fault best?
My favourite is the one that's gold with a butterfly crown and then maybe something cute - maybe the flower crown.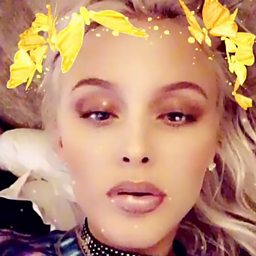 And we thought celebrities only used the dog filter.
Ain't My Fault is out now and Zara says her new album is coming soon.