Diwali 2013
BBC Asian Network are partnering with this year's Diwali celebrations in Birmingham.
Diwali celebration in Birmingham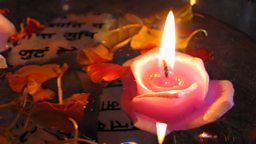 Be part one of the best and largest indoor Diwali celebrations in the country.
The New Bingley Hall will be transformed into a vibrant and colourful arena featuring a stage area where artists will be presenting entertainment in the form of traditional dances, Bollywood songs and Bhangra.
There will be a dedicated Kids Zone comprising of face paintings, cartoon shows, mask making, games, competition and music and dance workshop.
Plenty of stalls selling arts and crafts, toys and as part of the tradition, there will be a Fireworks display to be enjoyed by all.
Hosted by: Alpa Pandya
Where: The New Bingley Hall, Birmingham
When: Sunday, 10th November
Time: 2.00pm - 7.00pm