6 reasons why Liam Gallagher is 2017's ultimate comeback king
Liam Gallagher helped to define the 1990s, alongside brother Noel, in chart-topping band Oasis - but perhaps unexpectedly he turned out to be one of the most important musical characters of 2017.
As he prepares for his performance at BBC Music's Biggest Weekend in May, we take a look at some of the comeback king's most essential moments of the last year.
1. His debut solo album surpassed EVERY expectation
While the fortunes of Beady Eye, the band Liam formed with erstwhile members of Oasis, have gone up and down, it's with his June 2017 solo album As You Were that Liam has really hit his post-Oasis stride.
The record has had massive combined sales of more than 150,000, hitting the No.1 spot in its first week. It's the third fastest-selling album of 2017 so far, behind Ed Sheeran's ÷ and Rag'n'Bone Man's Human.
Liam's LP has also had super impressive sales on vinyl, with 16, 000 copies sold giving him the biggest one-week vinyl sales in more than 20 years.


2. His Glastonbury set was an epic mix of old and new
Liam purportedly vowed never to return to Glastonbury after headlining with Oasis, but after going back to Worthy Farm with Beady Eye in 2013, he performed as a solo star on the Other Stage this year.
Showing his not precious about performing old material, he peppered his set with Oasis songs, and finished the show with a rendition of Don't Look Back In Anger dedicated to the victims of recent Manchester and London terror attacks and the Grenfell Tower fire.
Clad in a trademark black parka and shaking his tambourine, Liam looked right at home at Glastonbury.
3. He used a cuppa to school us about changes in the music industry
Only LG could turn the simple act of making a brew into a viral internet sensation. In a clip taken from BBC Music Backstage Pass he laments in his own inimitable and hilarious style that he has to stir his own teaspoons nowadays.
"Now in the 1990s I got someone else to do it but now I can't, money is tight," he rants. "No one buys records these days. In the 1990s I'd have had about four people doing it."
Desperate 2017 times call for desperate 2017 measures, we're afraid, even for rock'n'roll stars.
4. He proved he doesn't take himself too seriously
He may be a self-professed rock'n'roll star, but you can't accuse Liam of taking himself too seriously. He recently announced he will be appearing on the special Stand Up To Cancer edition of Gogglebox, in an episode which will also feature the likes of Jeremy Corbyn and Ed Sheeran.
Liam will share the sofa with his mum Peggy and his son Gene. His brother, Noel Gallagher, appeared on the show with supermodels Kate Moss and Naomi Campbell back in 2014.
5. He's become one of the funniest people on Twitter
Liam "No-Filter" Gallagher is one of the best value celebs around when it comes to interviews, and his candour well and truly extends to his Twitter feed.
Often hilarious, sometimes belligerent and occasionally totally cryptic, over the course of 2017 the star's tweets have covered everything from the relative prowess of sauce brands to the significant musing: "Thought of the day. Is it ever really too late for social media training."
While Liam has become a Twitter star, it's certainly not in his rock'n'roll game plan. "I don't want any more followers," he told Mashable in a recent interview. "It just so happens that I've got to point whatever it is, but it's just me being me. I'm just having a laugh. If you wake up in the morning and go, 'I really need to get more followers', you really need to get out a bit more and go for a walk."
6. He headlined Radio 2 In Concert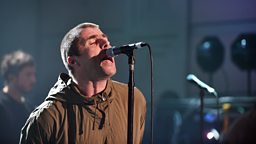 Liam joined a legendary line up including CHIC featuring Nile Rodgers and Tears For Fears to take part in a run of special concerts celebrating 50 years of Radio 2.
Playing a mixture of Oasis classics and new tracks from his smash hit album As You Were, Liam's performance at the BBC Radio Theatre in London was broadcast live on BBC Radio 2. And while he's sold 40,000 tickets in five minutes recently for his massive Finsbury Park gig next year, he played to just 300 lucky people for Radio 2 In Concert.
More from BBC Music's The Biggest Weekend