BBC Radio Scotland Young Traditional Musician 2015
BBC Radio Scotland is on the search for another outstanding young traditional musician.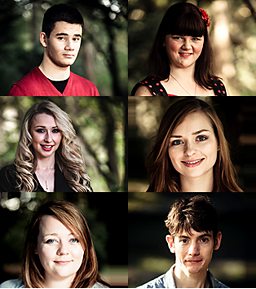 2015 finalists
Robyn Stapleton, Winner 2014
The Grand Final will be held at the Celtic Connections Festival, Glasgow on Sunday 1st February 2015. Finalists will perform for 15 minutes in a concert setting and can be accompanied by a professional traditional musician of their choice (from a group provided). The winner of the BBC Radio Scotland Young Traditional Musician 2015 will be awarded a recording session with BBC Scotland, performance at the Scots Trad Music Awards, one year's membership of Musicians Union, and all finalists get one year's membership of TMSA plus the opportunity to take part in the TMSA's annual Young Trad Tour.
2015 Finalists
Ainsley Hamill (Cardross) - song
Ainsley's love of Gaelic and Scots song was nurtured whilst studying at The Royal Conservatoire of Scotland, where she obtained a first class honours degree in Scottish Music, with Gaelic Songs as her principal study, under the tuition of Kenna Campbell and Mairi MacInnes. There she met her fellow band mates, and Barluath was formed. In recent years the band has recored their first album 'Source', along with touring extensively in Britain and abroad. Their new album is released early this year.
Claire Hastings (Dumfries) - song
Claire Hastings is a Scots singer originally from Dumfries. Having had a passion for music from an early age, she was awarded a first class honours degree in Scottish Music from The Royal Scottish Academy of Music and Drama (now The Royal Conservatoire of Scotland) in 2011. After graduating, Claire spent 18 months travelling the world, but was drawn back to Scotland and is now living in Glasgow. She is currently singing in a duo alongside Robyn Stapleton, and also in the newly-formed band Top Floor Taivers. Claire is also involved in several teaching projects.
Gemma Donald (Shetland) - fiddle
Described by fellow Shetland fiddler Aly Bain as 'one of the finest players in the country', Gemma is also one of the busiest. Since winning the coveted Glenfiddich Fiddle Championship in 2006, she has gone on to establish herself at the forefront of fiddle playing. Noted for her energetic playing style, her other roles include that of teacher, award-winning composer, session musician, pianist abd adjudicator at national events.
Heather Downie (Isle of Lewis) - clarsach
Heather has always had a love of Scottish music. Her passion grew working with the late Martyn Bennett, after which she decided a career in Scottish music would be her goal. Having graduated in 2008 from The Royal Scottish Academy of Music and Drama with a first class honours degree in Scottish Music studying harp with Wendy Stewart and piano with Mary McCarthy and James Ross, Heather went on to complete a postgraduate diploma in Scottish Music performance under the guidance of Corrina Hewat. Heather has travelled extensively in Scotland and her music has taken her as far afield as Germany, Denmark, Latvia and New York, playing for dignitaries like Jack McConnell and Prince Albert of Monaco.
Ryan Young (Cardross) - fiddle
Inspired to play the fiddle after hearing Aly Bain and by the playing of EilidhSteel, Ryan Young graduated with a first class honours degree in Scottish Music from The Royal Conservatoire of Scotland. A finalist in teh BBC Radio 2 Young Folk Awards in both 2007 and 2008, Ryan won the Celtic Connection's Danny Kyle Open Stage in 2007. Ryan plays mainly Scottish and Cape Breton tunes, always in his own unique way ranging from slow, lyrical marches and airs to driving reels and strathspeys.
Seamus O Baioghill (Skye) - fiddle
Seamus started outlearning from piper Iain MacFadyen and fiddler Iain MacFarlane. At the age of twelve he set up his own band called Na Gillan Saor (The Free Boys) and they played at local venues around the Isle of Skye. Seamus joined the Senior National Youth Pipe Band of Scotland when he was thirteen to develop his musical knowledge of playing in a large group. Some of his most notable competition results on the fiddle was winning the national Mod twice and winning the Edinburgh Mod. On the pipes Seamus won the Cowal Highland Gathering Piobaireach competition and was also crowned junior piping champion for the 2014 National Piping Centre competition.