What's The Right Diet for You?
A ground-breaking new personalised approach to dieting which matches people to the diet best suited to their biological and psychological make-up. Drawing on scientific research carried out for the BBC Television series, this ebook will help identify the right diet for you and will show you how to lose weight and keep it off for good.
Contains:
A step-by-step guide to choosing the right diet for you
Expert advice on how to lose weight and keep it off
Meal suggestions and delicious recipes
Video interviews with people who have tried and tested the diets
A foreword by TV presenter and doctor Chris van Tulleken
Optimised for tablets, with full screen videos throughout, this ebook offers the latest scientific advice on the best ways to lose weight.
iPAD download
UK only, iPad with iBooks 3 or later and iOS 5.1 or later and Mac supporting OS X 10.9 (Mavericks)
If you don't have any of these devices, the three diets can be downloaded below. Take the diet calculator to find out which is the most suitable for you.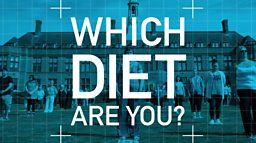 More BBC ebooks
Featuring specially curated video clips of some of the best moments from the Horizon archives.

Can you guess an animal from its bones? Test your skills by exploring five very different skeletons.