Post GCSE Options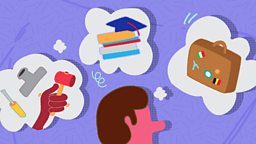 Now your GCSEs are over you've got some decisions to make. So make sure you know all of your options as you move onto the next exciting chapter.
There's plenty of time in the summer between GCSEs and AS Levels to go on an adventure!
What should I do next?
Finishing GCSEs is a huge moment. If you're trying to figure out the ideal 'next step' for you - start off by having a good think. Consider what you are good at, what you enjoy and where you see yourself in the future.
If you know what you want to do then great; go get it! If you aren't sure, or can't decide between a couple of options, think about the skills that overlap and how you are most likely to gain and develop them. In England you have to stay in education or training until you're 18. In Scotland, Wales and Northern Ireland it's 16.
Are A levels a good idea?
If you want to go to university, the most usual route is to take A levels. Doing AS and A levels will improve your skills, make you more attractive to employers and give you the chance to learn more about the subjects you enjoy most. You're treated more like an adult than when you're at school, too. Most people choose to study three to four AS levels, and then take two or three onto A level but your teachers will help you decide what's right for you.
If you already have a specific course in mind for university, have a look at whether there's any particular A level subjects you need to take. Choose subjects you're passionate about if you can. In Scotland, you take Highers and Advanced Highers. Unlike AS and A levels, your Higher grade does not count toward your Advanced Higher grade.
Your school may offer A levels, or you may go to a sixth form or college. You can choose where you take your A levels, so you don't necessarily need to stay at your school even if they do offer them.
What about the Diploma?
The Diploma, or HND, combines study with practical experience. Lessons are work-relevant and interactive, and all Diploma students get to do at least 10 days work experience. For example, you would take part in workshops and projects, like putting together a magazine or developing a business plan. Although Diplomas relate to a particular subject or sector, such as Engineering, you will continue to study core subjects like English, Maths and IT. You can take a Diploma at 14 or 16 years old.
I want to start earning some cash
Lots of jobs require A levels or degrees so be prepared to start from the bottom and work your way up. Think about applying for jobs that offer training. This will put you in a good position to move up the career ladder. And go for a job you'll enjoy - a day at work can seem very long when you're used to being at school!
Can I get qualifications without doing more study?
Apprenticeships offer work-based training and are a great way of getting qualifications and earning money at the same time. Anyone over 16 can apply for an apprenticeship scheme, and they can last from 12 months up to four years depending on the qualification. The process differs slightly between England, Scotland, Wales and Northern Ireland, so make sure you investigate according to where you live.
I need a break from studying, but I'm not ready for a job
Some people take a 'gap year' between finishing their A levels and starting work or university, but not that many people do it between GCSEs and A Levels. A gap year is an opportunity to work out your next move while having fun and building on your skills. Be realistic though - a round-the-world trip costs thousands of pounds, and you might get more out of it once you're a bit older. If money is tight, why not look into local volunteer projects? Or, if you are just up for a change of scene there's plenty of time in the summer between GCSEs and AS Levels to go on an adventure!
Whatever your results, it's worth speaking to adults you respect and trust about your options. Here are some careers websites that may help you:
BBC Advice factfiles are here to help young people with a broad range of issues. They're based on advice from medical professionals, government bodies, charities and other relevant groups. Follow the links for more advice from these organisations.