Meet the Experts
Meet the contributors to the series The Birth of Empire, presented by Dan Snow.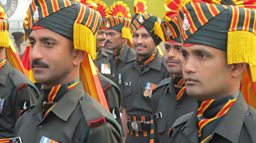 Professor Margot Finn
University College London
Margot Finn completed her PhD in modern european (including British) history at Columbia University in New York in 1987 and then taught on the core social science curriculum for two years at the University of Chicago as a William Rainer Harper Fellow.
Prior to taking up her appointment at UCL in July 2012, she held appointments in the history departments at Emory University (1989-2000) and Warwick University (2000-2012). In the latter institution she served as head of department, history (2006-2009), founding Director of the Institute of Advanced Study (2007-2009) and pro vice chancellor (2011-2012).
Margot's professional responsibilities have included serving as editor, Journal of British Studies (July 1997-2001) and founding co-editor, Cambridge Social & Cultural Histories (2002-present); council member (2002-2005) and vice president (2009-2012) of the Royal Historical Society; AHRC Peer Review College member (2004-2008); history sub-panel member, HEFCE REF (2011-2014); and trustee, Victoria & Albert Museum (2012-present).
Dr Zareer Masani
Author "Macaulay: Britain's Liberal Imperialist"
Dr Zareer Masani is a historian, author and broadcaster with an Oxford doctorate in modern indian history. He has written several historical books, including Indian Tales of the Raj (BBC Books, 1987) and, most recently, a biography of the imperial statesman and historian Lord Macaulay (Bodley Head, 2013). He lives in London and Mumbai, writes frequent articles for magazines such as Prospect, Standpoint, History Today and Outlook (India) and presents documentary programmes on BBC Radio 4.
Professor Saul David
University of Buckingham
Saul David is an historian, novelist and broadcaster. He was born in 1966 and lives with his family near Bath in the UK. He is Professor of War Studies at the University of Buckingham.
His many history books include: The Indian Mutiny:1857 (2002), shortlisted for the Westminster Medal for Military Literature; Zulu: The Heroism and Tragedy of the Zulu War of 1879 (2004), a Waterstone's Military History Book of the Year; Victoria's Wars: The Rise of Empire (2006); All the King's Men: The British Redcoat in the Age of Sword and Musket (2012); and 100 Days to Victory: How the First World War was Fought and Won. He has also written two bestselling historical novels set in the late Victorian period. The first, Zulu Hart (2009), was described by The Times as a 'rattling good yarn' with 'a compelling, sexy hero who could give Cornwell's Sharpe a run for his money'.
An experienced broadcaster, Saul appears often on British television and radio. In 2012 he presented 'Bullets, Boots and Bandages', a series on the history of military logistics, for BBC Four. His other TV presenting credits include the 'Escape From…' series for Five (2004), Sky One's genealogy series 'So You Think You're Royal?' (2007), and three programmes for the BBC's flagship history series Timewatch: 'The Queen's Lover' (2001), 'The Greatest Knight' (2008) and 'Queen Elizabeth's Lost Guns' (February 2009). He was an on-screen expert on BBC Two′s virtual battle series 'Time Commanders' (2004) and two of his books – Mutiny at Salerno and Zulu – have been made into BBC Timewatch documentaries (1999 and 2003).
Dr Robert Hutchinson
Historian
Robert Hutchinson, historian and archaeologist, was defence correspondent of the Press Association in 1977-83 before moving to Jane's Information Group to launch Jane's Defence Weekly. He was publishing director, responsible for all the group's international defence and aerospace titles, in 1987-97.
He is the author of six critically-acclaimed and best-selling books on Tudor history, which have been republished in nine languages, including Last Days of Henry VIII, Elizabeth Spymaster and Thomas Cromwell. His last title, The Spanish Armada has just been published in paperback.
Hutchinson is now completing a book on the Audacious Crimes of Colonel Blood, due to be published by Weidenfeld & Nicolson in 2015.
He is also planning a title based on his researches in the British Library and elsewhere, The Lost Voices of the East India Company.
He teaches Tudor history to overseas students at the University of Sussex's International Summer School and is a regular broadcaster and lecturer.
Hutchinson was appointed OBE in the 2008 Honours List and is a Fellow of the Society of Antiquaries of London. He holds a doctorate in church archaeology for his research into the impact of the Reformation on church monuments.
Professor Margaret MacMillan
University of Oxford
Margaret MacMillan is the warden of St. Antony's College and a Professor of International History at the University of Oxford. Her books include Women of the Raj (1988, 2007); Peacemakers: the Paris Conference of 1919 and Its Attempt to End War (2001); Seize the Hour: Six Days that Changed the World (2006) and The Uses and Abuses of History (2008). Her most recent book is The War That Ended Peace: How Europe Abandoned Peace for the First World War (2013). She is a fellow of the Royal Society of Literature and an Officer of the Order of Canada.
Nick Robins
Author "The Corporation that Changed the World"
Nick Robins is author of The Corporation that Changed the World: How the East India Company Shaped the Modern Multinational (Pluto Press). He studied history at Cambridge University, and has over 20 years experience in corporate accountability and sustainable development. He has written widely about the Company's global impact, including for the Financial Times and the New Statesman, and conducts guided tours of the Company's London legacy.