Stirling Bomber model
This model plane is exactly one-sixth the size of the real thing.
Made by its owner, this model is of a Stirling Bomber used by the Americans during World War II. The U.S. military were based at RAF Marham in 1942.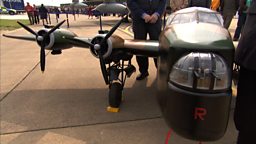 This model can fly, albeit on the tethered line. It took 6,550 hours to build, spread over 15 years. It was a labour of love and the model is unique.
Did you know? Almost half of the 125,000-strong Bomber Command lost their lives in World War Two, more than today's entire RAF personnel.
Get the app that lets you join in by guessing the values of items featured in the show.