Olivia Bamber
It may appear clichéd to say that a single week changed my life, but unfortunately, in this case, clichés are the best way to describe my experience. If I had to sum it up in one word, that word would be surreal. To be on the other side of the world with a group of strangers and making yourself feel uncomfortable every day, but still have the time of your life – that's surreal.
My sister was the one who introduced me to the idea of the programme; she had stumbled upon it whilst helping me search for work experience. I shrugged it off at first, uninterested in being involved in a trip when my degree was nearing its end. After a bit of persuading I sent an email – not expecting a reply. What was once a distant thought quickly spiralled into a fast paced journey and before I knew it I was on the train to London, with a single suitcase packed with nerves.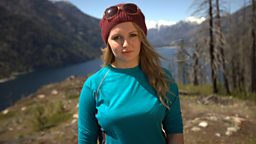 Meeting five people for the first time, in a village in the middle of nowhere whilst eating a meal in front of each other, is awkward for anyone; doing all of this whilst being filmed adds a whole new meaning to the word 'obscure'. It took over an hour for any of us to mention the one thing we knew we had in common - OCD; I think this just proves how similar we are and how well suited we were as a group.
We met at breakfast the next morning as old friends, and began our journey to the States. The first few days we spent at Islandwood was a fun filled mixture of games, long talks, walks and challenges. It seems odd to say that I enjoyed challenging my OCD, but when you're surrounded by five friends who are going through the same thing coupled with fantastic therapists who are constantly supporting you, it makes the world of difference. I soon realised I loved the feeling of success when I completed a challenge; it felt good to kick OCD in the face.
For me, the trek was the most challenging part. It was four days of continuous OCD exposures. I fear 'smell', so not having access to running water, clean toilets, washing machines and the constant reassurance of family and friends was a nightmare. On top of that, walking with a heavy rucksack in the heat of the day was not at all fun and made me want to shower more than ever. These were just the unplanned exposures. I challenged myself with foods I refuse to cook or touch because of the smell, such as tuna and onions. In those four days I experienced a whirlwind of emotions, but I can't begin to describe how much it has helped me.
Since going on the trip, I have continued to challenge myself every day with cutting down on ritualising. I have experimented with cooking fish, emptying the bins, and cutting down on laundry. The biggest change for me has been with my independence. I see myself as an independent person generally, but unfortunately OCD had taken that away from me. Since the camp, I have re-learned how to trust my own judgement and make my own decisions on smells, instead of asking for constant reassurance.
The camp, the therapists and my new friends are truly a gift I'll be forever grateful for.