Henry Bone portrait of Mary, Queen of Scots
This painting on enamel is as fresh today as when it was first painted in the 1820s.
It was painted by one of the great enamellists Henry Bone. The subject is Mary, Queen of Scots who was executed in 1587.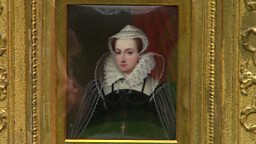 Henry Bone (1755-1834) made a speciality in finding historic Elizabethan and Tudor portraits and then copying them in this exquisite process.
He was an enamellist to George III.
This is an extremely beautiful image of a very important and emotive sitter Mary, Queen of Scots. It was painted a few hundred years after her death. The intensity of colours really shines out. It is worth approximately £12,000.
Did you know? Mary, Queen of Scots ruled Scotland from 1542 to 1567. In February 1567 Mary's husband the Earl of Darnley was killed in an explosion. When she married the chief suspect, the Earl of Bothwell, the nobility suspected her involvement and forced her to give up the throne.
Did you know? After her abdication, Mary, Queen of Scots fled from Scotland to England. Elizabeth I saw Mary as a constant threat to the English throne and kept her under surveillance for 19 years. Mary was executed for treason on 8 February 1587.
Get the app that lets you join in by guessing the values of items featured in the show.