Reasons to Read Roy: Arundhati Roy in her Own Words
Arundhati Roy's long awaited second novel, The Ministry of Utmost Happiness, is Radio 4's Book at Bedtime. Here are seven reasons why you should read her work…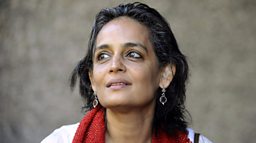 Arundhati Roy, author
She's a "confounding literary presence"
Arundhati Roy recently recorded a memorable interview with Kirsty Young on Radio 4's Desert Island Discs. In her introduction to the author, the presenter described: "a novel here, a polemic essay there. Always writing, yes, but defying the traditions and expectations of both the publishing world and her readership" – and how!
She knows her own mind – and her craft
When, where, and how she writes are clearly on Arundhati's terms. Speaking at the Hay Festival back in 1997, shortly after the publication of her first, award-winning, novel The God of Small Things, Arundhati talked about her approach to writing, and allowing the reader to find their own way with her work: "I'm not naïve but I've certainly been accused of being idealistic or romantic, and those are badges of honour for me."
During her appearance on Radio 4 Book Club in 2011, discussing the novel, she seemed to buy into the old adage of "write what you know" with reference to her home and upbringing: "I grew up in Ayemanem. I watched these performances of the great epics. I know that the stories you love the most are stories you already know."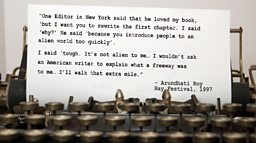 She's not afraid to examine the darker aspects of life and love
"It's important to find joy in the saddest places, to pursue beauty to its lair" ... "Love is a risk. It can cause you great pain – or it can heal" ... "Pessimism and optimism are things that in my political work I think about and write about."
– Book Club, BBC Radio 4 (2011)
She respects her readers, but doesn't try to second guess them
Talking about The God of Small Things in 1997:
"I always end up feeling slightly offended when people ask me 'who is your audience?'… If I had started writing my book thinking of an audience, I would have gone insane."
She can't be pigeon-holed – and has no interest in dumbing down
Speaking at Hay in 1997, Roy declared she was "...waging a small, private war against simplification!"
Each time I write an essay I get into so much trouble I promise never to do it again

Arundhati Roy, 2017
She may have only written two novels in 20 years, but Arundhati Roy is well known for her several essays and non-fiction works, which have caused controversy.
Acknowledging this, she told Kirsty Young on Radio 4's Desert Island Discs: "Each time I write an essay I get into so much trouble I promise never to do it again."
Is there anyone else out there who describes a book and the process of writing in such vivid, physical terms?
Quite a way with words...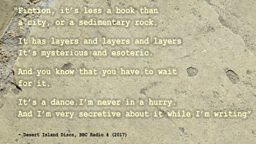 She's in no hurry – and not always in full control of her art
Talking to James Naughtie on Radio 4's Book Club, Arundhati explained: "I hope I will return to fiction. I don't want to write books because that's what the world expects me to do. I want to write a book when I have a book that needs to be written or wants to be written; not just because that's a profession."
I want to write a book when I have a book that needs to be written or wants to be written; not just because that's a profession

Arundhati Roy on Book Club - BBC Radio 4, 2011
Describing fiction on Front Row in 2002: "I hope that I will write fiction again, because that's what gives me the deepest pleasure. It's not entirely (in) my control…"