The Rings of Akhaten
The Fourth Dimension
The read through for The Rings of Akhaten took place at BBC Wales' Roath Lock studios on Wednesday, 17 October, 2012 and filming started the following week, on Monday, 22 October. Matt Smith celebrated his 30th birthday during the shoot – and even received a surprise cake from the cast and crew!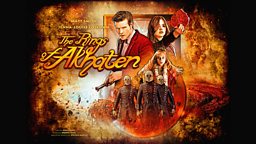 The music we hear at the beginning of the episode, when the fateful leaf falls, is Ghost Town. The song was originally a hit for The Specials in 1981 when it stayed at the top of the UK charts for three weeks.
The comic the Doctor is reading early in the adventure is 'The Beano Summer Special, 1981'. The cover depicts the character of Dennis the Menace and his dog, Gnasher, causing havoc at a 'dolphinarium'. The comic's cover price was 32p.
Clara's dad says, 'She wants to be Bryan Robson!' This is a reference to English midfielder (and later football manager) Bryan Robson, OBE. Throughout the 1980s he achieved fame playing for Manchester United and for England's national side which he often captained.
This is the first episode of Doctor Who written by Neil Cross, the award-winning creator of the BBC drama Luther. He has also written Hide, the fourth episode in this run. The Rings of Akhaten is directed by Farren Blackburn who was at the helm for the 2011 Christmas Special, The Doctor, the Widow and the Wardrobe.
'I came here a long time ago… with my grand-daughter…' The Doctor very seldom talks about his family and on the odd occasion he does mention his relatives - in adventures such as Tomb of the Cybermen and The Doctor's Daughter – he never gives much away. However, this line appears to reference his grand-daughter, Susan, who travelled with the First Doctor many many years ago…
It's generally accepted that the word 'psychometry', used by the Doctor in the marketplace, was first coined in 1842 by the American Joseph Rodes Buchanan. It literally means soul or spirit measurement and tied in with Buchanan's belief that living things have emanations that if understood, can help reveal facts about that particular thing's past.
This is the first adventure since The End of Time where there's no overt reference to Amy Pond. Although the character departed in The Angels take Manhattan she's brought to mind in The Snowmen (with talk of the 'pond' and the way in which that word hooks the Doctor) and in The Bells of Saint John we glimpse a book written by Amelia Williams.
Jenna-Louise Coleman likened her sequence on the moped to a 'James Bond moment'! You can find out more about the making of The Rings of Akhaten in our behind the scenes video.
The Doctor takes Clara to the Festival of Offerings, but the Old God is waking and demands sacrifice!