Parsnip cake
This is Sarah's version of a loaf cake made with parnips and wholemeal flour, which she first came across in the 'Farmers Market Cookbook' by Ysanne Spevack.
Parsnip cake
Sarah's healthier parsnip cake.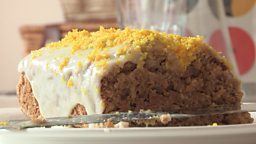 Ingredients
250g/9oz wholemeal self-raising flour
1 tbsp baking powder
1 tsp ground cinnamon
1 tsp fresh ground nutmeg
130g/4oz margarine/butter
130g/4oz soft light brown sugar
250g/9oz parsnips, coarsely grated
1 ripe banana, mashed
rind and juice of 1 orange
For the topping
225g/8oz cream cheese
3 tbsp of icing sugar
1 small orange, juiced
orange peel to decorate
Method
Preheat oven to 180/gas mark 4. Lightly grease and line a 900g loaf tin.
Sift the flour, baking powder and spice into a large bowl.
Melt the margarine or butter in a pan, add the sugar and stir until dissolved. Make a well in the flour mixture and add the melted margarine/butter and sugar.
Mix in the parsnips, banana and orange rind and juice.
Spoon the mixture into the prepared tin, level it with the back of a spoon.
Bake for 45-50 minutes until a cocktail stick inserted into the centre of the cake comes out clean.
Allow the cake to cool before turning out onto a wire rack to cool completely.
For the topping, beat the cream cheese, icing sugar and orange juice until smooth and pour over the top of the cooled cake.
Tip: use a processor to grate the parsnip and banana