Filming The Hudson's Bay Boys by Gilly Mathieson
When I travelled across the Canadian Arctic in 2000 I was struck by the peculiarly familiar hospitality shown towards me by the Inuit living in tiny Arctic communities. Locals would proudly offer me Scottish breakfast tea, porridge and bannock, share their love of Scottish music and talk about their Scottish ancestors. More surprising, was the number of Scots I would bump into living in these communities. These men were leading figures across Northern Canada and had married into Inuit families. It was one of these men, Gordon Wray, who introduced me to the story of the modern day Scottish Bay Boys.
In 1970 Gordon, still in his teens, replied to an advert in the back of the Daily Express which called for "adventurous men for the Canadian Arctic". He was soon to head to the edge of the world to work as a clerk or "Bay Boy" for the Hudson's Bay Company, the main trader of furs and provider of supplies in Canada's North, founded by Royal Charter three hundred years earlier.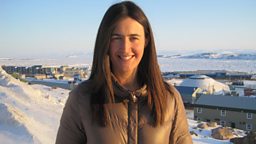 He later told me how he "was thrown off a Second World War vintage DC3 plane along with the mail bags in the middle of a blizzard at minus 30C in the Arctic, and two days after that I was heading down the back of a lake on a sled to be taught how to make igloos and to hunt. It really was Call of the-Wild stuff". In 2009 Gordon suffered a fatal heart attack. His friends and family rallied round me to ensure that this story didn't become the stuff of Arctic legend and I set off on a journey to track down the remaining Scottish Bay Boys.
In April 2011, James Dawson, my Camera Director, and I travelled from Edinburgh with 11 boxes of film equipment to visit the Bay Boys in their far flung communities and to reunite them in the tiny hamlet of Pangnirtung. Our first stop was Ottawa, Canada's capital, to pick up Bay Boy Jim Deyell, who accompanied us for our entire trip. We took full advantage of Jim's lengthy experience in the Arctic. He became our 'Jim'll fix it' and directed us to beautiful locations to capture the picturesque Arctic landscape on film.
We chose to film in April to show the Arctic in all its late winter splendour: light nights, snowy backdrops and mild temperatures of ... only minus 12. But over this past year, winter started and ended late. When we arrived, we experienced blizzards, gale force winds and temperatures plunging to minus 40. The BBC cold weather gear didn't quite live up to these conditions but locals lent us seal skins mitts and parkas which helped – a little.
Despite the deprivations, filming this story was an experience of a lifetime. I hope that the documentary leaves viewers with a clear sense of the contribution of these amazing men to the Canadian north, the beauty of the Inuit people and their culture and the majesty of Arctic landscapes.
More from BBC Scotland's Explorers Season including Mark Beaumont's Rowing The Arctic and The Last Explorers with Neil Oliver.