Dennis Waterman: "You're doing a serious job but there's always got to be a laugh"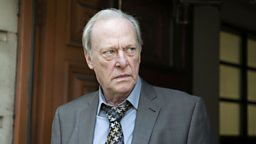 Dennis Waterman is Gerry Standing - totally un-PC, Standing seems to be stuck in the 70s, not only in how he approaches the job, but also how he behaves socially
Where do we find the team at the start of series 11?
I think all the doubts about who this new boss Sasha Miller is and if she's good enough were covered in the last two episodes of last series, so with the new series we're up and running as a team.
How would you describe your character?
I don't think much has changed with Gerry, he's still the same old. In fact the original idea behind the series was these were ex-detectives, we did things which might be described as slightly un-PC today. I have a great line in this series, which is 'this is not how the police work anymore' and I respond, 'that's right you never nick anybody.'
What's the dynamic like with the new line-up?
I enjoyed filming a lot of scenes with Denis Lawson, we have quite a few funny scenes together, a great storyline about how we both fall in love with the 'sat nav lady'! We do a very interesting story about the Fleet River, written by Julian Simpson and that was fascinating finding out about an underground river in London that used to be a major route, because none of us knew anything about it, it was really interesting.
What's your experience of filming in and around London?
It's nice to be filming in London and you get to see the different areas. I've always been treated very nicely by the public, for some reason the fans think I'm like an old mate. I was with a mate of mine, walking through an airport and people were saying 'love the show'. My friend thought it was interesting that no one had mentioned Sweeney or Minder; it was all about New Tricks.
What do you think is the appeal of New Tricks?
I think is it has a massive demographic, the fact the characters are old enough to retire but still doing the job properly, and the inherent humour in it, and the characters. Also the 'old bill' like it, they feel it's exactly like they are in their office, taking the piss out of each other, you're doing a serious job but there's always got to be a laugh.