Vagina & Clitoris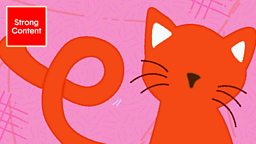 If you are female, you've got a vagina. But do you know you labia from your vulva?
There is a thin stretch of skin just inside the vagina called the hymen
Beaver, box, c**t, fadge, vadge, fanny, front bottom, love tunnel, minge, muff, pussy, quim, snatch, twat... there's a whole lot of names out there used to describe the vagina, and unfortunately many of them are derogatory.
What is it?
The vagina is the passage connecting a girl's internal reproductive organs (the bits inside her body needed for having a baby) to the outside. The genitals on the outside are called the vulva.
What does it look like?
The vulva is a pair of fleshy lips between the legs. These are the 'labia majora' and grow pubic hair after puberty.
Inside are a pair of smaller lips called the 'labia minora'. Between theses lips is the clitoris, which looks like a tiny, rubbery lump of flesh.
Below the clitoris is the hole where wee comes out from the bladder. Below that is the opening of the vagina.
What does it do?
The vagina lets things in and out of the body...
Out: Period blood every month, or a baby at the end of pregnancy.
In: A penis during sex, tampons or medical kits for smear tests.
How does it work?
Most of the time the vagina is like a flat tube: one wall lies on top of the other. But it is very stretchy. It will hold a tampon in place, but it can also expand enough to allow a baby through.
When a girl becomes sexually aroused (turned on), her vagina produces fluids to make it easier for a boy's penis to enter.
There is a thin stretch of skin just inside the vagina called the hymen. This is likely to tear when a girl first has sex. Some girls are born without a hymen, or it can tear naturally during physical activity or by using tampons. This doesn't mean she's not a virgin - you need to have full sexual intercourse to lose your virginity.
The vagina leads up inside to the cervix, which is the entrance to the womb, where a baby will develop in pregnancy.
Discharge from the vagina is perfectly normal. Girls will usually start to produce more discharge as puberty kicks in.
The vagina leans backwards slightly, towards the small of a girl's back. Not straight up. And no two vaginas are the same - they all vary in shape, size and colour.
BBC Advice factfiles are here to help young people with a broad range of issues. They're based on advice from medical professionals, government bodies, charities and other relevant groups. Follow the links for more advice from these organisations.