Doctor Who: Cybermen Monster File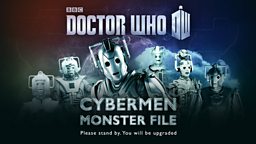 More BBC ebooks
Can you guess an animal from its bones? Test your skills by exploring five very different skeletons.

Compare diary accounts of the pioneering 1869 expedition with our modern day recreation.

Featuring extra unseen and uncut interviews with some of the final remaining survivors.

Featuring specially curated video clips of some of the best moments from the Horizon archives.

The CBeebies musical adaptation of the Dickens classic, tells the story of miserly Ebenezer Scrooge.