Bands so good they named themselves twice
When Everything Everything, Django Django and Years & Years took to their respective stages at Glastonbury they were upholding a long tradition of bands which sound repetitive, even though their music doesn't.
The trend of double names peaked in the 80s but has been going strong since music became popular. From punk to indie, boy-band to electro-pop, some bands just can't help naming themselves twice. So, if you're thinking of a creative name for your band, take inspiration from our tribute to ten music acts, in no particular order, which gave themselves a naming encore.
1. DURAN DURAN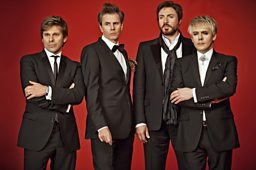 Born out of the New Romantic scene in Birmingham in the early 80s, Duran squared is perhaps the most successful of the doubler-uppers, helped in part by becoming the poster boys who followed in The Beatles footsteps and conquered America. Named after the villain in Jane Fonda's arthouse sci-fi film Barbarella, interestingly, they could have disqualified themselves from this prestigious list as the Wild Boys subtly changed their name during an experimental period in the 90s. Album artwork which accompanied Big Thing saw them drop from a five piece to a trio and rename to Duranduran - no space and technically one word. But double vision sanity returned with their next studio release; and they remain familiarly doubled to this day with a new album, Paper Gods, out this year.
2. THE TING TINGS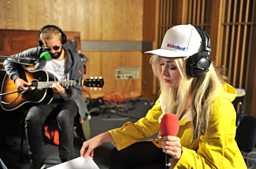 The Ting Tings perform at Maida Vale studios
Describing themselves as 'garage-pop' The Ting Tings came a respectable third in the BBC's Sound of 2008 poll. The Manchester duo topped the singles chart with That's Not My Name from the album We Started Nothing, also a chart-topper. They claim their name can be translated as the "sound of innovation on an open mind". Their musical career stumbled after initial success but they returned with a disco-orientated album last year, coincidentally (for this list anyway) co-produced by former Duran Duran member Andy Taylor.
3. EVERYTHING EVERYTHING
The ultimate repetition. Once you've named yourself after, well, everything is there anything left but to underline the point by repeating it? The indie-pop band started out with the express intention of making futuristic pop music in an age of data saturation, using contemporary RnB techniques. Having reached the longlist for the BBC's Sound of 2010, their first album Man Alive went on to be nominated for the Mercury Prize. For BBC Radio 1's Live Lounge they covered Rhianna's What's My Name? Well, it's everything.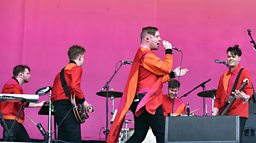 Everything Everything at Glastonbury
4. DJANGO DJANGO
Django Django's first album was self-titled so in charts it would have appearted as Django Django 'Django Django'. Also Mercury Prize nominees, the London-based art rock band have said their name is 'absolutely nothing to do with Belgian guitarist Django Reinhardt', so that's made everything so much clearer.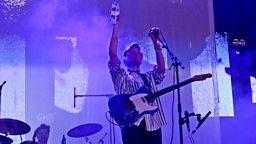 Django Django
5. WET WET WET
Why stop at a mild downpour when you could have a soaking? Another set of 80s survivors who're back on tour this year, the Scottish band fronted by Marti Pellow formed in 1982 after taking their name from a line in a Scritti Politti song. The band's first single Wishing I Was Lucky was released in 1987 starting a phenomenal run of 27 Top 40 hits, including the Troggs cover Love is All Around which stayed at the top spot for 15 weeks. That's 12 more than the number of Wets in their name.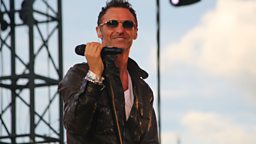 Wet Wet Wet perform at BBC at the Quay in 2014
6. MR. MISTER
Ok, not strictly a repetition but as near as possible. According to Wikipedia the American rock band's name came from an inside joke about Weather Report's ninth album called Mr. Gone where they referred to each other as Mister This or Mister That, and eventually selected Mr. Mister. By the 90s, the four piece had disbanded but not before leaving us with two classics: Kyrie and Broken Wings.
7. YEARS & YEARS
A rogue '&' is not going to stop us from including the band which is quite possibly the coolest pop trio around. They've become a staple of UK festivals recently, becoming crowd-pleasers with their mix of soulful synth music. They also topped the BBC Music Sound Of 2015 list, which highlights the best new artists for the year ahead. With that pedigree, they should be around for years and years.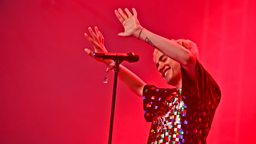 Years & Years wow the John Peel stage at Glastonbury 2015
8. TALK TALK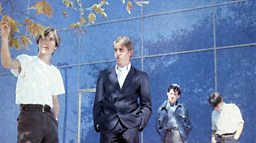 A compliation of Talk Talk hits was released as recently as 2013 but in reality they were another moody 80s band in the vein of Tears for Fears, with abstract lyrics and a synth-pop foundation. They scored hits with singles Life's What You Make It and a re-release of It's My Life but never really craved commercial success. Nevertheless, they have an impressive legacy, credited with influencing million-selling artists such as Radiohead and Elbow.
9. YEAH YEAH YEAHS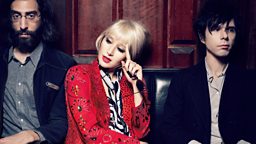 Yeah Yeah Yeahs
Yeah Yeah Yeahs are rooted in American indie rock and with four albums to their three names have been nominated for multiple Grammy and MTV awards. At the end of last year, lead singer Karen O told NME the band was on a 'bit of hiatus' but did not rule out new material 'when the urge takes us'.
This is just a handful of the bands who've doubled up their monikers. Do you know of others? Head over to our Facebook page and join the discussion discussion - now, there's a good name…
10. THE XX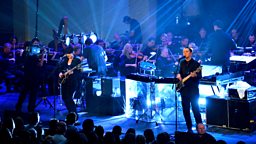 The XX perform with the BBC Philarmonic
London-based The xx won the Mercury Prize in 2010 with their debut album. Head of judges Simon Frith said it was "a record of its time". Former BBC Radio 1 DJ Zane Lowe caught up with the band in 2012 as they recorded a set with the BBC Philarmonic in Bridlington Spa. With the website URL xx-xx.co.uk they have possibly the coolest website address of any band, ever.
Elsewhere on Get Creative and BBC Arts
Musicians from the BBC Symphony Orchestra help you choose which instrument to learn

From The Kinks to The Stones, music historians put together a playlist to celebrate the pier's heyday