New Evening Programmes for Radio Wales Sport
BBC Radio Wales is introducing new sport programmes from August to capitalise on one of the most successful periods of Welsh sport ever.
About the programmes
On August 12 2013 Radio Wales launched our new nightly edition of Radio Wales Sport. On Mondays to Thursdays, Steffan Garrero brings listeners a mix of commentary, big interviews and conversation on a wide range of Welsh sport. On Friday nights, Rick O'Shea brings his Redzone fans commentary of Pro 12 rugby to Radio Wales.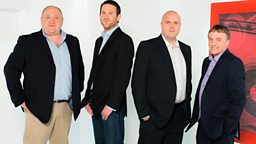 BBC Radio Wales Sport on Saturdays brings listeners the usual mix of commentaries from the nations' key football fixtures, followed by a brand-new sports phone-in on Saturday evenings.
Call Rob Phillips hears from fans and talks about the fortunes of their teams between 5.30pm and 7pm. Rob, named Welsh Sports Journalist of the Year 2013, presents his show from one of the grounds he's commentating at that day.
Welsh Sport on a high
Steve Austins, Editor of BBC Radio Wales, said: "Recent listening figures show that people's appetite for Welsh sport is on a high. And after 2012-13 season which saw Welsh sides win the Six Nations Championship, the Football League Cup, two promotions and the FA Trophy, who can blame them.
"In the 2013-14 season we'll have two sides in the Premier League, Europa League football for Swansea and a Commonwealth Games on the horizon, so these really are exciting times for Welsh sport. The introduction of Steffan and Rick to the nightly schedule, and Call Rob Phillips on Saturdays, offers sports fans more appointments to listen to BBC Radio Wales throughout the week."
Steffan Garrero said: "I'm hugely excited to have the opportunity to return to BBC Radio Wales after a great year working on the Sport Wales TV show. After a massively successful year for both Welsh football and rugby, and with the Commonwealth Games in Glasgow next year, a nightly sport programme is going to be a lot of fun."
Rob Phillips said: "We've enjoyed an absolutely unbelievable time for Welsh club football and I'm already excited about next season. Throughout the season we've brought the action and then the reaction. We hear from the managers, the players and our pundits. But Call Rob Phillips gives fans the chance to air their views.
"Supporters are always passionate with their opinions and, for us, it's a case of  - the stronger the better."
Sport through the week on Radio Wales
"These new programmes allow us to offer more to a growing base of listeners who come to us just for sport," said Editor Steve Austins. "It also gives us all important consistency five nights a week, which we currently don't have.
"No schedule changes come without difficult decisions, and these changes have meant that Alan Thompson's Evening Show and Saturday's The Back Page have come to an end.
Alan is still very much a fixture of the Radio Wales schedule though, hosting a music show on Sunday nights, and his series I Write The Songs returns in 2014. Despite The Evening Show having come to an end, our commitment to live Welsh music will remain as strong as ever with live weekly sessions on Louise Elliott and on weekend programmes like Bethan Elfyn, Jamie Owen and Roy Noble.
"My thanks also go to Peter Jackson and the production team of The Back Page, which also came to an end in August. The Back Page was a regular fixture of the station's Saturday morning schedule for many years and delivered some excellent sports journalism – standards the new nightly edition of Radio Wales Sport will no doubt uphold."
"If you're a Welsh sports fan, I know you're already looking forward to what the next 12 months will bring. I hope you'll enjoy it with us on BBC Radio Wales."