Spirit of 2012 Trust
Find out more about the Spirit of 2012 Trust
Tanni Grey-Thompson, 11-time Gold Paralympian and Trustee of the Spirit of 2012 Trust. In front of the Olympic Stadium in London to celebrate the handing over of £40 million endowment by the Big Lottery Fund to keep alive the legacy of 2012. Photo: Geoff Caddick/PA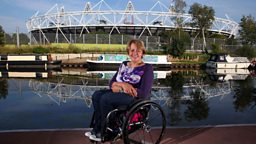 How can it help you?
The Big Lottery Fund is one of the organisations responsible for distributing the money raised by National Lottery players and ensuring that it helps those most in need. Lottery money helped stage the 'biggest show on earth' the 2012 Olympics and The Fund has decided to invest the money it is due to receive back from the sale of the Olympic and Paralympic Village, around £40 million, in the Spirit of 2012 Trust.
This independent body is tasked with helping to secure a lasting social and community legacy from the London 2012 Games, helping people – particularly young people - to take an active part in their communities, whether through sport, art and culture, education or volunteering. The Spirit of 2012 Trust is aiming to fund and develop a range of UK-wide initiatives, particularly those with a focus on volunteering, social action, community events and promoting the understanding of issues facing disabled people. For further details please visit The Spirit of 2012 at The Big Lottery Fund.