Sarah-Jane's Book Club
Welcome to Sarah-Jane's Book Club!
There'll be lots of banter on books, guest reviewers and chats with authors, but most importantly we want YOU to share your thoughts and opinions in our end of month reviews!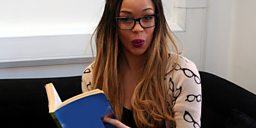 To get involved text us on 88111 or email us at sj@bbc.co.uk
My Mad, Fat Teenage Diary by Rae Earl
Rhonda Byrne is an Australian author and TV writer, who was first put on the map by writing the short film and book … 'The Secret' which you may already be aware of
It's 1989 and Rae is a fat, boy-mad 17-year-old girl, living in Stamford, Lincolnshire with her mum and their deaf white cat in a council house with a mint off-green bath suite and a larder Rae can't keep away from. She's got a bonkers mother and her own mental health issues - has a huge lust for life, love and Liam Gallagher. 
If you like the idea of snooping into someone's diary – which is naughty btw – then you are going to love this.
Funny, touching, real-life diary with characters like the evil friend Bethany, Bethany's besotted boyfriend, and the boys from the grammar school up the road (otherwise known as Haddock and Battered Sausage).
It came out in 2007 and is based on the authors actual real life diary.
Nice light hearted read for January AND it's been made into a TV show which starts on E4 on the 14th of January
Get reading with Sarah Jane this month and join us on the 31st January for the review show.