Red Nose Day Comedy Classroom competition - CLOSED
Competition now closed

This year the Comedy Classroom competition called upon children aged 6-12 to write 3 funny, original, creative and well written jokes for the chance to see them performed live on a special Red Nose Day Blue Peter on Thursday 23 March 2017. The competition was supported by Red Nose Day 2017, the National Literacy Trust and Blue Peter.
Details of the competition:
The competition is split into two age categories:
- 6 to 8-year-olds
- 9 to 12-year-olds
We understand age 12 will no longer be studying at primary level, however they may still be watching Blue Peter so we want to ensure they are able to take part.
Pupils are required to submit 3 rib-tickling jokes. These jokes must be original and cannot be copies of well-known jokes.
The jokes could be about anything you like but they must be original, creative, well written and funny! They must be written in English and suitable for family audiences of all ages, and handwritten legibly on the entry form supplied.
Pupils can work alone or as a group of up to 3 people.
We encourage you to use the primary resources to help you with ideas and lesson plans to get you and your students started. There are also a range of comedy clips available on the website to demonstrate different comedy devices.
Children can either enter through their school, with a local club or group, or as an individual. We will only accept one entry per child. Children entering as part of a group must all be in the same age category.
Submissions will only be accepted from a teacher, parent or guardian. Jokes must be submitted on a signed entry form on behalf of the pupil(s), ensuring that they have read and agreed to the terms and conditions.
Teachers - by submitting an entry for the competition, teachers are agreeing that the school's head teacher has granted all necessary permissions and consents both on behalf of the school and from the parents/legal guardians of every pupil being entered, either through existing in loco parentis protocols in place at the school, or as a result of direct communication about the competition to the parents/legal guardians of all entrants, in order to gain the appropriate consent including the rights required by the BBC and Comic Relief to use the jokes.
Youth group leaders - if doing this activity with children outside of school and the children want to enter the competition, the form must be completed by a parent. Each child entering will need to obtain parental permission by way of signature on the application form. Youth group leaders are not permitted to enter children into the competition 'in loco parentis'.
Competition is now closed
Terms and conditions and FAQs
Winners of the primary competition will receive an orange Blue Peter badge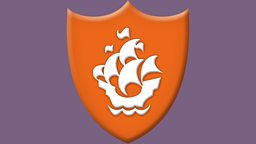 Top tips on how to write your own comedy