Michael Parkinson introduces the Talk Collection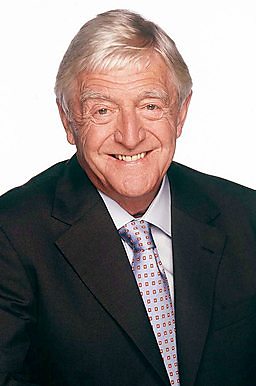 Michael Parkinson
Michael Parkinson began his career as a newspaper journalist. His talk show Parkinson was launched on the BBC in 1971 and ran until 1982. In 2004 he successfully transferred his show to ITV, until his retirement from the show in 2007. Parkinson was voted in the top ten in a British Film Institute poll of the Best Television Programmes Of All Time. The show ran for over 800 episodes and Michael interviewed more than 2,000 of the world's most famous people during its run.
It was Alan Whicker walking and talking on the Tonight programme in the late 1950s who first gave me the idea of earning a living on television. A new kind of journalism I thought. Exciting. I'll give it a go. When I eventually came to emulate my hero I wasn't very good at it. So I sought advice from another master of the craft, also on Tonight, Fyfe Robertson.
Fyfe said: "Get in the studio as soon as you can and stay there. For one thing it's warmer and for another let me tell you no-one ever earned a fortune walking through a ploughed field talking about the price of potatoes!"
So that was the beginning of my studio-based attempt to persuade people to talk. I didn't know where it might lead until, during a stint on Granada TV's Cinema programme in the late 1960s I interviewed the director Sam Peckinpah. I said: "Mr Peckinpah, before becoming a director you were a script writer?" Sam Peckinpah said: "Nope. First I directed then I wrote."
Take 2
"Mr Peckinpah, before writing movies you were a director."
Peckinpah: "Nope. First I wrote, then I directed."
In that moment I thought: "This is a lot more fun than I imagined." When, eventually, the talk show came along I was proved right.
This collection of interviews from the BBC is not just about talk shows; rather it illuminates the craft of interviewing and how it has varied over the years and how it can tell you much about the manners and mores of a moment in time.
There is no more illuminating example of what I mean than the two editions of In Town Tonight, the BBC's first attempt at a nightly TV magazine programme, in which the hosts sound like Gussie Fink-Nottle and guests talk of 'How heppy' they are to have returned from 'Effgenistan.' But this was the patrician BBC of the 1950s, still speaking with the accent of privilege, unaware of a nation restless, fed up, knackered by war and rationing, eager for change; an organisation deaf to the rumble of thunder in the distance. My favourite moment was recorded in 1955 and featured an interview with Heinz Linge, Hitler's personal attendant, who had just been released after 10 years in a Russian prison.
This collection of interviews from the BBC is not just about talk shows; rather it illuminates the craft of interviewing....
First question: "Herr Linge, what was Hitler like to work for?"
This corker is surpassed by the final question and answer of the interview. Herr Linge is asked if he's found the time to visit parts of Britain other than London. He says he has been to Dover to stand on the White Cliffs because his boss would have liked to have done the same. "I'll bet," says the interviewer.
Other gems: A reminder of Malcolm Muggeridge's unique style and formidable presence. He was God's gift to the interviewer but when he was asking the questions you couldn't help feeling he wished he was answering the questions as well. His confrontation with John Cleese and Michael Palin from an edition of Friday Night, Saturday Morning when they debated the stir created by Monty Python's Life of Brian represents a significant skirmish in the cultural revolution of the 1960s and 1970s.
The debate, which also included the then Bishop of Southwark, Mervyn Stockwood, took place on a popular evening talk show in 1979. Similarly, my interview with Professor Jacob Bronowski broadcast in 1974, was a one-man show aimed at a mass audience on Saturday night. It wouldn't happen on today's talk shows. As one critic put it nowadays 'chat has been parodied into absurdity.'
In the 1980s, with the breakup of the studio system, great Hollywood stars like James Cagney, James Stewart, Fred Astaire, Bette Davis and Lauren Bacall became more available and the talk show had a field day. These were not flimsy celebrities created by television talent shows. These were great stars previously only seen as 30ft high images on a wide screen. Moreover they were not simply actors with a life bounded by a proscenium arch or a sound stage. Often they were men and women who had survived a war, with a tale to tell beyond the currency of showbiz gossip.
So how did we get from there to here? Technology - the internet - stripped the mystery of stardom away. How do you question an open book? What's the sense in the interviewer asking when the answer is already in cyberspace? Which is the reason why the talk shows of today are basically comedy vehicles where the host and guest become a comedy duo - a foretaste of what was to come is seen in Wogan's meeting with Mel Brooks.
Nothing new in that. An American version of this BBC Talk Collection would feature more chat shows than our list contains, also stretching further back in the history of television.
The Americans invented it. Particularly the show where the host dominates proceedings. The paradox is while we have searched long and hard for the host with the pulling power and longevity of Jack Paar, Johnny Carson, Jay Leno and David Letterman, we have never come near to discovering him and her, maybe because we have never convincingly attempted the five nights a week talk show. It could still happen because talk is cheap and therefore very attractive to the programme makers of today.
Anyone pursuing the idea will find many clues in the Talk Collection. The most significant discovery might be the possibility of blending entertainment and information, comedy and drama into the same show and sometimes finding all you seek in one person.
Watch the interview with Maya Angelou and pay particular attention to the introduction. "Maya Angelou, in your life you have been ... cook, a conductorette on a tram car, a prostitute, a singer, a dancer, an actress, a civil rights activist and a writer. What has given you the most satisfaction?"
With an introduction like that it's not only the interviewer who knows he's in for a good time.
So do we.
Michael Parkinson, February 2012
BBC Four Collections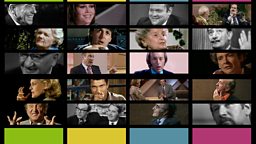 A collection of BBC interviews with influential figures of the 20th century, available to watch on BBC iPlayer.