You are right - this is the fake.
The box itself may be 200 years old but someone has embellished it by painting intricate designs on it to make it look grander than it is.
Instead of a lovely polished finish a basic polyurethane lacquer has been applied which is totally out of keeping with a genuine tea caddie and is detrimental to the object.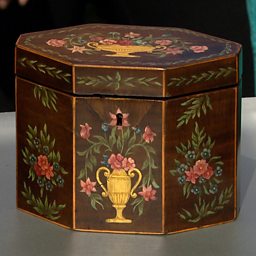 Our expert John Foster warns that the popularity of tea caddies makes them a particular target for fakers. The most common ruse is to take a simple plain original box and either paint it or add additional decorations to it in a bid to make it look more intricate and more desirable. Some plain Georgian caddies were decorated in the Edwardian era to make them more acceptable to the taste of the day.
John says if it looks too good to be true then be suspicious. Do your research carefully and go to reputable dealers, auctioneers and museums and really get to know what real tea caddies look and feel like.
 Things to look out for to avoid being duped:
Newly lined interiors and unnatural signs of wear, often in places where there would be little or no wear, can be a tell-tale signs of a fake.
Machine or laser cut marquetry and panel prints can be obscured under new polish or varnish.
Check the quality of the interior, some fakes have been known to be lined in foil rather than lead.
If you can see the wood inside look for an even colour which indicates all the wood is the same age and origin.
Sometimes forgers try to age locks by making them rusty or by applying acid to the metal to make them appear pitted and aged. Generally speaking, a lock should be clean and crisp. Some have an original key which is increasingly rare – so look carefully at the key if present.
Bear in mind that tea caddies were in daily use so natural wear and tear is to be expected. If something looks too pristine and perfect be cautious.
Research prices and know the price levels. If something is too cheap then it is likely not to be genuine.
Get the app that lets you join in by guessing the values of items featured in the show.