Big Comedy Night
Watch Big Comedy Night; a laugh-out-loud stand up comedy event with the cream of Asian comedians from across the UK and beyond.
When to watch
Watch 'BBC Asian Network's Big Comedy Night' on BBC Red Button from Monday 10th March at 10:00pm. BBC Red Button is available on Digital TV across Sky, Freeview, Freesat and Virgin.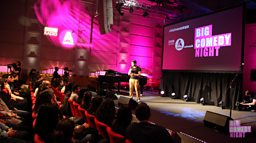 Full Schedule
This event was recorded on Friday 7th February 2014 at the BBC Radio Theatre, London. It was BBC Asian Network's first Big Comedy Night celebration with the cream of Asian comedy across the UK and beyond.
The event was hosted by breakfast show presenter Tommy Sandhu with an exciting line-up of performers including home grown rising stars like Abdullah Afzal (of Citizen Khan fame), master of "twerking" Mawaan Rizwan, impressionist Anil Desai, BBC New Comedy finalist Tez Ilyas and critically acclaimed Romesh Ranganathan, YouTube sensation IIsuperwomanII from Canada and Aditi Mittal – one of India's top new comics.
Join in the banter online using #BigComedyNight
| Freeview | Sky | Freesat | Virgin |
| --- | --- |
| Note: Subject to change | Note: Subject to change |
| March 2014 | March 2014 |
| Mon, 10th: 22:00 - ongoing | Mon, 10th: 22:00 - ongoing |
| Tue, 11th: Ongoing - 07:00 / 20.00 - 22.00 / Midnight - ongoing | Tue, 11th: Ongoing - 07:00 / 20.00 - 22.00 / Midnight - ongoing |
| Wed, 12th: Ongoing - 07:00 / 19:30 - ongoing | Wed, 12th: Ongoing - 07:00 / 19:30 - ongoing |
| Thu, 13th: Ongoing - 07:00 / 19:30 - 22:00 / Midnight - ongoing | Thu, 13th: Ongoing - 07:00 / 19:30 - 22:00 / Midnight - ongoing |
| Fri, 14th: Ongoing - 07:00 / 19:30 - ongoing | Fri, 14th: Ongoing - 07:00 / 19:30 - ongoing |
| Sat, 15th: ongoing - 07:00 | Sat, 15th: ongoing - 07:00 |
A guide to BBC Red Button
To go interactive, simply press the red button on your remote control during these times and select 'Big Comedy Night' from the menu