Nicholas Lyndhurst: "Everything is a game of chess for him"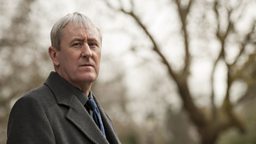 Nicholas Lyndhurst is Dan Griffin - a retired officer with experience in both the Murder Squad and the Diplomatic Protection Group
How would you describe your character?
He's ex-murder squad, ex-diplomatic protection, so everything is a game of chess for him, he knows he's going to win or he thinks he knows he's going to win. He's trained at reading body language and micro expressions in people's faces and I did a bit of research in that myself. It's fascinating, when you know how people lie. It's so subtle.
Where is your character at the start of the new series?
Episode one is like the start of a new working case for him. But he's got personal issues at home, his daughter is leaving for university and there's a storyline with his wife which will be revealed further into the series. So things are complicated in terms of his private life and he doesn't want to discuss them with the team, but he takes that to work with him every day. His armoury is watching from a distance, he's cerebral, he's never going to be up on the dance-floor, but he'll be standing in the corner watching things and it's been great to play a completely different character like Danny, it was exactly what I was looking for.
What's the dynamic like with Tamzin and her character?
We get on very well, taking the micky out of each other, which is a sign of real affection and it's a busy schedule, a lot to remember, so it's nice to have that. Both mine and Tamzin's character don't have anything else to do but the job, the house is empty there's no point in going home, so there's a lot of working late.
What's your experience of filming on location in and around London?
I had no idea how many camera phones there were in London, at one stage we were filming at Paddington Station and I just looked up and there was a sea of commuters pointing their phones at us.
What do you think is the appeal of the series?
Great scripts that keep you guessing, and the combination of cases and personal storylines. The line- up brings a different dynamic. I think the lovely thing about the series is you get a good look at the characters, away from work. It's interesting as an actor to have even the briefest insight into one of the other character's personal life, you learn more about all the characters that way.