Your memories
Here are just a few of the memories from the first 30 years of Cardiff Singer that you have emailed in or posted on Facebook.
My favourite moment was hearing Shenyang singing Aleko's Cavatina in 2007. He was so immersed in the character and so expressive. I've followed his career ever since, been to Hoddinott Hall, the NY Met, Boston, and Glyndebourne to see him make his debuts there and this year I'm going to Beijing to hear him make his debut as Figaro in Mozart's Marriage of Figaro. His exquisite voice and powers of interpretation are just intoxicating! Colette Lo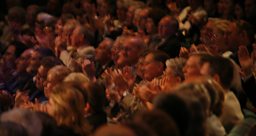 Nelleke Reijs (from Amsterdam): In 2007 I came for the first time to the BBC Singer of the World with a friend and we were addicted immediately. It was also that first year that, when we went home after hearing Shenyang for the first time, we more floated that walked, so overwhelmed and moved we were by this young singer. And though I heard many good and excellent singers since, in Cardiff and elsewhere, I will never forget that moment. And, at the finals of the main competition, I sat just behind that great soprano and lovely lady Dame Joan Sutherland and even was able to stutter some words of admiration to her! We came ever since and we hope to come many more times!
Nina Stemme (1993) being announced in one of the programmes as having sung the most beautiful note (Fiordiligi's 2nd aria). David Campbell
When Guang Yang (1997) was announced as the winner - I don't know who was more thrilled, her or me! Sharon Cutworth
Katarina Karneus. Such a clear winner in 1995. Beautiful singing, delightful personality. Dorothy Brooker
I'll never forget the 1993 competition and the first time I heard tenor Tito Beltran sing! Also loved the Russian baritone that year (Vasily Gerello). Regina Kealy
I've watched the competition with great pleasure for many years. Hye Jung Lee's performance of 'I am the wife of Mao Tse Tung' had the hairs on the back of my neck standing on end. Breathtaking peformance! Looking forward to many more. Alan Rowley
I have to speak up for the English contingent...Elizabeth Watts and Andrew Kennedy were and are still sublime. Anna Murgatroyd
Bondarenko was great and I heard later Valentina Nafornita and I liked the concert very much. (2011) Hana Neumannová.
I've followed the competition from the start, but in 2011, for the first time, I was able to attend in person, which was quite an experience in and of itself. However, over and above the fine singing I heard, perhaps the one thing that impressed me above all was the audience singing the Welsh National Anthem at the two Finals. I've heard a Welsh crowd before, at rugby matches, but it's not difficult for thousands of people to sound impressive. The quality and intensity of the sound produced by the smaller numbers in St. David's Hall was something else again. (I'd have liked to join in - but the Welsh text was beyond me, I'm afraid!). K Lang, Glasgow.
I was lucky enough to work at St David's Hall for the early years of the competition. Meeting and hearing so many enormously talented singers, many of whom have gone on to great careers around the world was a marvellous experience. We all had our own opinions on who would win and sometimes the judges actually agreed with me! At the first competition I had said to Karita Mattila that I thought she would win. Of course she went on to claim the prize. Afterwards, she ran over to me and gave me a big kiss and said "You told me I would win!" Great memories! I am looking forward to this year's Final, I just hope the judges agree with me! Mike London
Two outstanding memories. One was of Welsh soprano Joanne Thomas (2001) in the middle of her aria when the fire alarm went off! With great poise, Joanne stopped singing, left the stage and returned when it was safe to do so. She tossed off her aria to a huge round of applause. Our other memory is of Germany's Marcus Bruck singing Wagner's Hymn to the Evening Star (2001). We have never heard it sung so beautifully and with such feeling. Annette and Bryan Hubble, Sedona, Arizona, USA.
Andrei Bondarenko was superlative in 2011, as was Karita Mattila in 1983. Valeria Esposito in 1987 was such a charming artist. And I couldn't believe that Nina Stemme didn't win (1993). Michael Llewellyn.
Many people on Facebook contributed one single name as their favourite memory. It is not a complete list, but members of the Dmitri Hvorostovsky fan club includes: Margherita Marghi, Natasa Lazic-Held, Beryl Lewis, Hana Neumannová, Brenda Zwickel, Maria Zentai, Laura Donato, Olga Jagmina, Raina Steiner, Elena Kuznetsova, Jane Dodd, Trudie Mundell, Tanyusha Zakharchenko, Carlos Alberto Laurencio, Jasmina Pakaski, Olga Lutohina, Dusanka Miric, Natalia Reshetkova, Vanessa Coan, Gitka Kaňka, María Micaela Salcedo, Alexandra Pozhitok, Noémi Gyarmati, Małgorzata Downarowicz, Heather Coey, Silvia Pepe, Bella Leyfer, Marja Vallinheimo, Olive Leche, Teresa Iwańska