Rogue Traders: Cleckheaton Gearbox and Clutch Centre
Watchdog has heard of complaints from customers of Cleckheaton Gearbox and Clutch Centre, and its boss Paul Frost (not to be confused with companies of a similar name).
It seems Paul and his team have been charging for work that's not been carried out, keeping hold of vehicles for longer than they need to and carrying out work of poor quality.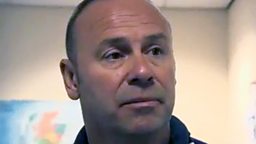 Mark Paterson told us that he went to the company for a new clutch, flywheel and reconditioned gearbox for his Porsche Boxster. The company quoted him £1,800 and informed him that his car would be ready in two weeks.
But Mark explains that he had to constantly chase the company for updates and never got an answer.
After four weeks of constant chasing he finally got his car back but found that the clutch was still squeaking, a similar thing that he had experienced before he took the car in.
When Mark informed the company about this they explained that it was making this sound because the clutch was brand new.
Mark decided to take the car to another garage. And when they examined it, they found that the clutch wasn't brand new at all.
Furthermore the flywheel wasn't changed neither and the gearbox was second hand, not reconditioned as Mark was expecting.
Whilst Mark did eventually get his car fixed and a partial refund from the company, The Rogue Traders team has found that the company has many other unhappy customers.
Cleckheaton Gearbox and Clutch Centre have had nineteen county court judgments against them totaling over £50,000 – fifteen of which are still unsatisfied.
We wanted to find out for ourselves what sort of work the company does. We started small, presenting them with a Ford Focus.
The clutch itself was in good condition, so we didn't touch it at all. Instead we set a small leak with the hydraulics hose. In theory all it needed was a small rubber seal to fix it. It should have cost about £70 plus another £40 in towing charges.
But when our stooge took it to Cleckheaton Gearbox and Clutch Centre, Paul Frost told him the clutch was 'worn out' and needed replacing, along with the hydraulics cylinder.
Cleckheaton Gearbox and Clutch Centre charged £320 for the work, even though all it needed was a new seal.
Our stooge convinced Paul Frost to give us our old clutch back and he did. This was perfect as a comparison between this and the one Paul had put in, would reveal valuable information.
Transmission Technician Chris Meredith examined the clutch that they put in. He explains that it is of an inferior quality to the one that was taken out, describing it as 'a chocolate clutch' because it just melts.
Chris told us that the original clutch they'd taken out was good for, 'another thirty to forty thousand miles at least.'
However the Rogue Traders team decided to give Paul Frost a second chance.
This time they sent in a Porsche Boxster with our stooge Annabel, but we didn't set a fault at all.
Instead Annabel said she couldn't get into certain gears. Would Paul realise that she simply wasn't pressing the pedal down enough?
Paul couldn't replicate the 'problem' on the test drive, so he decided to take the car in for further investigations.
He then told stooge Annabel that she was, 'probably a couple of thousand miles of [her] clutch going anyway….so you would have lost your drive.'
However the team knew it was good for another 20,000 miles.
Paul also said she needed new gear cables, a new flywheel and that her gearbox had a fault. Costing a total of £1915.80 - this for a car with no fault set.
Stooge Annabel decided against having the unnecessary work done. However Paul then told her that it would cost £400 to have the car put back together.
But she hadn't been told there would be a cost for this when she dropped it off, but had no choice but to pay.
Our expert Chris told us he thought the company was, 'taking advantage of motorists with very minimal technical knowledge,' describing their behavior as, 'first-class' dishonesty.
The Rogue Traders team decided to confront Paul with our investigation. Having received a less than friendly welcome by his workforce, Paul told us that, contrary to what our expert said, both the Ford Focus and the Porsche did need the work he quoted.
He told them that the wear on the Ford focus clutch was a matter of opinion. Also, in his opinion, the Porsche's clutch was close to failing.
He said that they had thousands of satisfied customers.
Published 5 June 2013
Elsewhere on BBC Watchdog
Find more reports on rogue traders that the team have been hunting and confronting for giving customers a raw deal.