The Art of Commemoration
Street theatre company Royal de Luxe returned to Liverpool from 23-27 July with their iconic giant marionettes for Memories of August 1914. The giants walked the city's streets to mark the centenary of the start of WWI.
Ahead of the procession, actress Sue Johnston wrote for BBC Arts about the emotional power of Royal De Luxe's 2012 Titanic centenary performance and looked forward to being one of the million people who came together for this act of commemoration.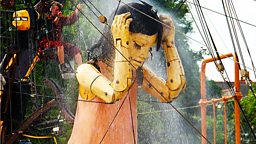 The girl marionette showers after waking up, July 2014
Growing up in the 1960s and spending so many years in the world of entertainment, I have seen and been part of some incredible things, from Beatlemania to Barbara in The Royle Family via Brookside; I have been lucky enough to have had some experiences that I will remember for ever.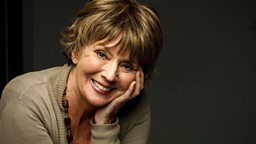 Sue Johnston
What is so compelling about Royal De Luxe is the way that they take the art to the people
But one of the things I will never forget came two years ago, when alongside tens of thousands of people from my hometown, I took to the streets to follow a 30ft wooden 'giant', her uncle and her dog around the streets of Liverpool.
The city truly fell in love with those characters, and the French artists – Royal de Luxe - who brought them to life.
On that occasion, the giants came to Liverpool to mark the centenary of the sinking of the Titanic – a seismic moment in history and certainly for the city, where so many of the crew from the ship were from.
Some questioned if these giants were an appropriate way to commemorate such a disaster.
They were proved spectacularly wrong.
This week, Royal de Luxe return to the city, and this time to mark something even bigger in our history – the centenary of WW1.
Liverpool was the birthplace of the Pals regiments – groups of friends who, with the words of Lord Derby and Kitchener ringing in their ears, signed up together to go on an adventure abroad from which so few of them ever returned.
Over the course of the coming years, there will be hundreds of commemorations around that terrible war – some big national moments and some small intimate affairs – but for me, it is this performance – titled Memories of 1914 – which I know will be as powerful as anything which will follow it.
Artistic endeavour such as this – big, bold and exciting – is a vital way for us to mark key historical events, no matter how sombre.
They engage our senses and emotions in a way that other forms of commemoration would never be able to, and they break down barriers of age, class and race effortlessly.
What is so compelling for me about Royal de Luxe is the way that they take the art to the people rather than wait for the people to come to them.
Between them, the three giants who will be in the city this week – the little girl and her dog again, but this time joined by a brand new grandmother giant – will travel a total of 30 miles around the city, going down the streets of forgotten terraces, past the two incredible cathedrals which hug the Merseyside skyline, and into parks quite a way off of the beaten track.
This spectacle will engage and impact more people in this story, than any normal form of commemoration ever could, getting people to invest in something they didn't even know they should care about.
Art can do this. It can touch us, thrill us, enrage us and engage us in things we might otherwise just let us pass by or choose to ignore.
It makes us look and think differently about ourselves, where we live, our history and our future.
I have been lucky enough to be at the centre of some of those moments myself, but this week I am looking forward to experiencing it again, like everyone else.
Being one of the million people who are due to come together to commemorate, pay our respects and reflect on the ultimate sacrifice, by being brought together by a giant girl, her grandmother and a dog.
Only art will ever be able to do that.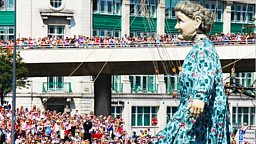 The grandmother marionette passes huge crowds in Liverpool , July 2014