Tin ingot collection
This collection of tin ingots was collected by the owner's grandfather in the 1920s, after he was invalided out of World War I.
He was an accountant of a Cornish tin smelting company. When consignments of tin were produced from the mine, they produced an ingot - exactly as you would see an ingot of gold or iron ore - but at the same time they produced these decorative ingots.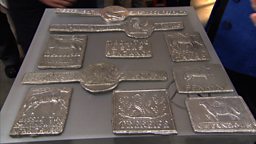 These are rare, as many would have been smelted because of the tin value they represented. They also were a form of currency in the 18th Century. Many of Cornwall's mines are represented by these ingots and the collection is worth £5,000-£10,000.
Did you know? In the 19th Century, tin mining in Cornwall had a huge effect on the region's landscape. Many roads, railways, towns, and harbours were built to support and expand the industry.
Did you know? In 1839, there were around 7,000 children employed in Cornish mines.
Get the app that lets you join in by guessing the values of items featured in the show.